As a first act of assuming the role of Finance Minister Dr Manmohan Singh on Wednesday called the five Secretaries to Union Ministry of Finance and key Additional Secretaries to Prime Minister Office. Dr C Rangarajan and Monetk Ahluwalia were also present for the meeting.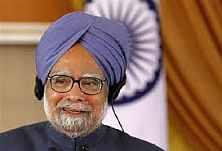 Dr Singh's first concern is about Euro crisis and the second is to restore confidence in stock markets.

Dr Singh sent a signal to Mumbai markets on Wednesday that he meant business -- to first understand, then act. "Wait and watch," a source in PMO said that many changes are expected soon in North Block. He will be visiting North Block next week to the office of Finance Minister in order to
meet the junior officials.
Further, he is said to have an interaction with the Governor of Reserve Bank, D Subba Rao and his deputies on Thursday.
On Friday, Dr Singh is also scheduled to meet the officials of Union Ministry of Agriculture to estimate the crop production. In his system of understanding finance, a close source commented that Dr Singh would first study monsoon weather and prays for Rain God for more water in dams for irrigation.
Insiders in the Finance Ministry have began to speculate that at least six to eight senior officials will be moved out of the five departments and this will be mostly at the level of Joint Secretaries.  "Pranab Mukherjee's confidants will now face the real heat" jokingly a senior official commented.