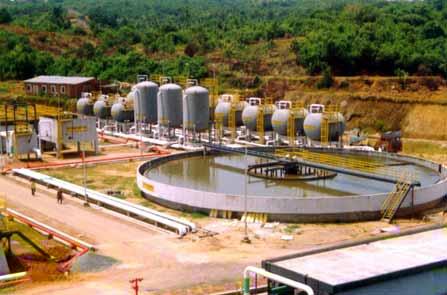 Fresh trouble is brewing for Mangalore Refinery and Petrochemicals Limited, an Oil and Natural Gas Corporation company, with the affected residents living in the vicinity of its petrochemicals complex protesting against the refiner for causing alleged air, noise and water pollution.

Hundreds of residents of Jokatte village, which is located adjacent to MRPL's sulp-hur and coke plants, are planning to stage a massive pro-test rally in Mangalore in the coming days.

They staged a demonstration in front of the office of deputy commissioner, Dakshina Kannada district, on Friday and submi-tted a memorandum to the government.

They are demanding imm-ediate suspension of sulphur and coke plants.

The residents have experienced extreme air and noise pollution ever since the company partially commissioned its third phase expansion that includes sulphur and coke plants.

"The MRPL recently commissioned their third phase plants and they are producing at only 25 per cent of their capacities. The villagers can-not even sleep properly.

"The water in the nearby lake and wells has been contaminated.

"Even fish has disappeared from the lake. We want the government to take immediate action and ask the company to close down the sulphur and coke plants," Muneer Katipalla, state president of Democratic Youth Federation of India told Business Standard.

The residents of the surrounding villages are suffering from many diseases and their health is deteriorating due to the coke and sulphur manufacturing units.

The villagers' life is in serious danger, he said.

MRPL acquired 274 acres at Mangalore Special Economic Zone to expand
its refinery in the third phase, which is adjacent to Jokatte village.
It has invested Rs 15,000 crore (Rs 150 billion) for the expansion.
It is yet to commission the polypropylene plant, which is likely to be done by December this year.
While acquiring the land for MSEZ, the Jokatte was left out, which is spread over close to 200 acres.
There are around 800 families residing in the village. MRPL's third phase facilities are located just around 100 metres away from the residential colonies of Jokatte.
"Many villagers are demanding that their lands should also be acquired by MRPL.
"But, we are demanding the gov-ernment to close down the sulphur and coke plants because the pollution is spread to many other villages between Surathkal and Bajpe," Katipalla said.
Meanwhile, H Kumar, managing director, MRPL met Karnataka Chief Minister Siddaramaiah in Bangalore and discussed various issues.
"MRPL has taken all possible pollution control measures as stipulated by MoEF and KSPCB.
At MRPL 24x7 air and sound monitoring is being done and drinking wells water is being checked every quarter.
All reports indicate that there is no cause for concern for the people of Jokatte or around the Refinery," a company spokesperson said.
Following complaints from the people of Jokatte Village Karnataka Minister for Environment & Forest Ram-nath Rai has appointed an expert "Technical Advisory Committee" for site inspection and recomm-endation of mitigating measures if required.
This Committee has visited MRPL recently and their report is awaited.
MRPL is committed to implementing further mitigating recommendations if any, in addition to what has already been implemented, the spokesperson added.