Mamata Banerjee said availability of land won't be a problem in Bengal as the state government has a land bank.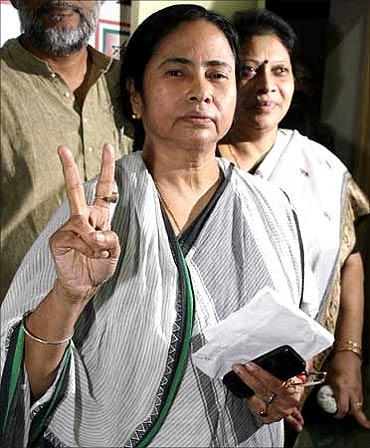 Ahead of assembly polls in West Bengal, Chief Minister Mamata Banerjee on Friday invited investors saying her state has a peaceful atmosphere conducive for setting up industries and there was no communal tension.
Compliments were showered on her government at the third edition of Bengal Global Business Summit here from captains of industry as well as ministers of the Narendra Modi government.
Lauding her government, Reliance Industries chairman Mukesh Ambani said, "As an investor, I stand here to say that West Bengal is among the top of the list in terms of doing business and recommend the state as an ideal investment destination."
His statement in the presence of Banerjee and several other industrialists came as a shot in the arm to the TMC government battling to develop an industry-friendly image ahead of the state polls, slated for later this year.
Banerjee in her turn told a galaxy of industrialists, "Our government will work as your worker."
Slamming her detractors, she said, "Some people are saying that there has been no investment. It is not true. Projects worth Rs 94,000 crore investment have already taken off. Some of the projects we had signed have already started.
"We have already set up a core group for industries. Our elections are coming, but don't worry everything will be sorted out. Democracy will continue. This elected government will return."
Speaking of the law-and-order situation, she said, "Bengal is a peaceful state where we all work together. There is no such communal incident or tension. Somebody might criticise it politically. We don't allow all this."
Her comments came against the backdrop of the violence that broke out at Kaliachak in Malda, which had prompted the union home ministry to seek a report from the state government.
Union Finance Minister Arun Jaitley said, "Summits of this kind held every year clearly demonstrates the intention that the need of the hour is to generate growth, increase revenue and fight poverty for which investments are required."
"It is in this context that West Bengal that has lost its glory of the past could be restored and I assure you that the Centre will give all its support to the state's endeavour to attract investments," he said.
Referring to the availability of land in the state, Banerjee said, "Land won't be a problem in Bengal as the state government has a land policy and a land bank."
"We have cheap and skilled labour and sufficient power," she told the business summit, where a book on investments that have come up in the past four years of Trinamool rule was also released.
Heaping praises on her, Union minister Piyush Goyal said, "The book about the achievements of the state government in trade and industries in the last four years truly reflects the transformational change that we have witnessed in the state."
A "significant paradigm shift" has been witnessed in the way investment is being attracted in the state in the last few years and it stands tall as a shining example of cooperative federalism in the country, he said and thanked TMC for its constant support to GST Bill in Parliament.
"I must thank Mamata Didi for her support to the GST Act that the Centre has been trying to pass. Her MPs have been very vocal in their support to Prime Minister Narendra Modi introducing GST and helping industry flourish," Goyal said.
Mukesh Ambani said Reliance through its telecom arm Reliance Jio has invested nearly Rs 5000 crore (Rs 50 billion) in the state in the last three years for developing the digital broadband network.
"We have got all the approvals in a time bound manner," he said.
JSW group chairman Sajjan Jindal, whose company is putting up a Rs 800 crore (Rs 8 billion) cement plant at Salboni in West Midnapore district said, "West Bengal is the place to invest. Large power plant and other industries are being set up there. Please invest more and more in Bengal."
Essel Group arm, Essel Infraprojects Limited (EIL) committed an investment of Rs 4,000 crore (Rs 40 billion) in the state, while leading corporates ITC and Airtel said they would make further investments in the state in addition to the ongoing ones.
ITC chairman Y C Deveshwar speaking at the summit said the company already has investments worth Rs 4,500 crore (Rs 45 billion) in process.
Vice-chairman of Bharti Enterprises Rakesh Bharti Mittal said Airtel and Bharti together made an investment of Rs 9,000 crore (Rs 90 billion) in West Bengal.
"We will invest another Rs 3,500 crore in the next three years." he said.
The summit was also attended among others by Union ministers Suresh Prabhu, Nitin Gadkari, UK Employment Minister Priti Patel, Bhutan Prime Minister Tshering Tobgay besides industrialists Mohan Das Pai, Subhas Chandra and delegates from abroad.