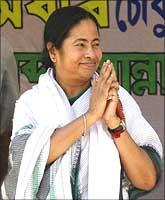 The Railways will sign a memorandum of understanding with the IIT Kharagpur to ensure inclusion of students in research work on development of Railways' infrastructure.
"The MoU will envisage involvement of IIT students in research work on infrastructure development of the Railways," railway minister Mamata Banerjee said in Kolkata on Wednesday.
If necessary, she said, the Railways would provide scholarships. Banerjee, while inaugurating a railway reservation counter at Gariahat area, announced railway connectivity to Maoist-hit areas in West Midnapore and Purulia districts with introduction of two trains on February 13.
One train named after tribal leader Birsa will connect Jhargram with Purulia and the other Jungle Mahal Express will link Midnapore with Jhargram.
Referring to the delay in implementation of railway projects, Banerjee said she was in favour of simplifying the tender process.
"The tender process needs to be simplified and short-term projects are getting delayed due to tender process by one to two years, causing suffering to prospective investors," she said.
Image: Mamata Banerjee