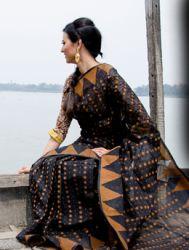 Sari designs handpicked personally by West Bengal Chief Minister Mamata Banerjee will be available in the market here ahead of the Durga Puja festival.
The range of saris will be sold under the 'Biswa Bangla' brand by Tantuja, a state government undertaking which sells cotton products and Bengali tant saris, said Swapan Debnath, Minister of State for Micro and Small Scale Enterprises and Textiles.
He said designs for special range of saris will be launched before Durga Puja.
Officials of Tantuja's design facilitation centre will meet the Chief Minister with a handful of traditional Bengali designs from where she may choose a few or suggest changes and re-touch a few.