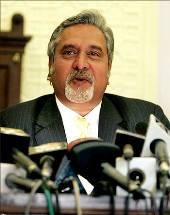 Even in bad times, Vijay Mallya has managed to make a neat cash pile for himself by selling a part of his stake in United Breweries Holding Ltd, which enjoyed a dream run on the stock exchanges between June and September this year.

UBHL is a holding company for Mallya's other firms United Spirits Ltd (USL) and Kingfisher Airlines (KFA).

The share price of UBHL saw a threefold rise from a 52-week low of Rs 53 in June to touch a high of Rs 155 in September, on the Bombay Stock Exchange.

Between July and September, Mallya through his three firms -- Mallya Pvt Ltd, Kamsco Industries and Gem Investment and Trading Pvt Ltd -- sold 8.84 per cent stake in UBHL, which gave him around Rs 55 crore based on the company's average stock price during the September quarter.

According to September quarter shareholding, the promoter holding in UBHL, led by Mallya, was down from 51.5 per cent to 43.09 per cent.

Mallya and his companies have been in the news for varied reasons.

Take the case of United Spirits, the share price of which saw a near fourfold rally from a low of Rs 450 in January to touch a high of Rs 1,424 on October 23.

The rise in the share price was fuelled by rumours of global spirits major Diageo looking to buy a stake in USL.

The market regulator had also sought information from United Spirits after the stock surged following reports of a likely deal with Diageo.

The Securities and Exchange Board of India had started investigations into the reasons for the volatile stock price movements in UB group companies.

UBHL holds 18.03 per cent stake in USL and would have been the chief beneficiary had Mallya managed to clinch a deal with Diageo. But research firms such as Macquarie and CNI Global had already cautioned investors against betting too high on USL as the risk-reward ratio was unfavourable after the rally in share price.

The stake of institutional shareholders in the company has gone up from 3.37 per cent at the beginning of this year to 24.8 per cent in June. While LIC's shareholding has remained unchanged at 1.17 per cent in UBHL during this period, Birla Sun Life Trustee Company, Platinum Investment Management, ACACIA Banyan Partners and LKP Finance are the players who have picked up the majority of stake in the company.
Image: Vijay Mallya