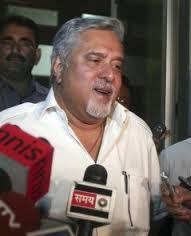 When Vijay Mallya recently completed 30 years as Chairman of UB Group, he got a pleasant surprise from Diageo, the global liquor firm which is now a majority holder in his United Spirits.

It was a nicely-aged Black Dog Chairman's Reserve scotch whisky, with a fully bespoke, handcrafted presentation case created to showcase the craftmanship that underlay the 30-year-old drink it held.

Diageo, which recently coughed up a total of Rs 18,000 crore (Rs 180 billion) to take majority control of USL, seems to have a lot of faith in him.

After investing as much as $36 million in Mallya's personal sorghum beer company in South Africa and bringing on board Smirnoff (the vodka brand of Diageo) as one of the sponsors of Mallya's Sahara Force India racing team, Diageo has extended its corporate guarantee by another six months on the $135-million loan Mallya has taken for one of his personal companies, Watson Ltd.

The latter is also one of the vehicles used by Mallya for his Formula1 team.

The first term recently expired and has been renewed by another six months, according to a recent regulatory disclosure by Diageo.

Watson's extension on its loan comes even as UB Holdings is struggling to explain how a loan of Rs 1,350 crore (Rs 13.5 billion) will be repaid to USL, as a result of which the latter is yet to declare its annual earnings for last year.

Mallya had earlier taken a loan of $135 million from Standard Chartered for Watson, the single largest shareholder with a significant 21.19 per cent stake in Mallya's holding company, UB Holdings.

Diageo has forked out a conditional back-stop guarantee, issued by Diageo Holdings Netherlands BV to Standard Chartered, pursuant to a guarantee
commitment agreement in respect of the liabilities of Watson.
This was entered into as part of the arrangements put in place at the closing of the USL transaction and announced by Diageo on July 4, 2013.
"The term of this facility and the DHN guarantee were extended on July 22 for an additional six months, with the monetary limits of both the facility and the guarantee remaining unchanged," Diageo said in a regulatory disclosure.
The terms continue to require that the right of Standard Chartered to call on the guarantee is subject to the latter having first taken certain agreed steps to recover from Watson, including defined steps towards enforcement of its security package.
In addition, DHN has, in respect of its potential liability under this guarantee, the benefit of counter-indemnities from Watson and Mallya, as well as the security package put in place for the facility.
This move by Diageo comes as a small solace for Mallya, increasingly cornered by a slew of state-owned lenders and the tax authorities over his long-grounded Kingfisher Airlines, saddled with debt of around Rs 4,000 crore (Rs 40 billion).
WARM COCKTAIL
Diageo extends corporate guarantee for another 6 months on a
$135-million loan taken by Watson Ltd, a personal firm of Vijay Mallya
Watson is a 22.19% stakeholder in Mallya's UB Holdings and also one of the companies Mallya is using to run his Sahara Force India F1 team
Move by Diageo to extend guarantee comes even as UB Holdings is under intense scrutiny on how it will be able to repay the Rs 1,350-crore loan taken from United Spirits, now controlled by Diageo
Diageo had earlier invested $36 mn in Mallya's personal company in South Africa, which focuses on sorghum beer
Diageo's Smirnoff Vodka is also one of the sponsors of Sahara Force India F1 team