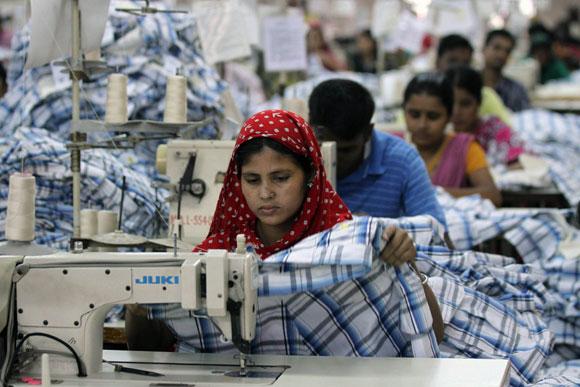 NITI Aayog wants the prime minister's flagship initiative should focus on labour-intensive sectors and policies that impede their growth to get special attention.
In its appraisal of the 12th Five-Year Plan (2012-13 to 2016-17), the government's key think tank said the Make in India programme was focussed on sectors such as automobiles, automobile components, aviation, biotechnology, chemicals, defence manufacturing, electrical machinery, electronics, food processing, leather, pharmaceuticals, textiles and garments, sources said.
The majority of these areas, it said, were those in which India was strong already.
Sectors in which India lagged were electronics, food processing, leather, textiles and garments. These are all labour-intensive sectors and policies that impeded their growth deserve special attention in the reform programme of the government, it added.
Labour market rigidities arising from wide-ranging and complex laws and regulation have been identified as perhaps the most important impediment to the rapid growth of these sectors, it said.
Labour being a concurrent subject, the Centre and state governments can legislate on it. Both have done so with the result that there are more than 40 central and many more state labour laws, officials said.
Broadly speaking, labour laws become stringent as the number of workers employed by a firm rises.
The Trade Union Act becomes operative at seven workers.
A firm with 10 workers, if using power, or with 20 workers, if not using power, comes under the purview of the Factories Act, 1948.
A firm with 50 or more finds it very difficult to assign a worker from one task to the other.
A firm with 100 workers or more is not allowed to lay off workers under any circumstances.
The profit margin of a worker in labour-intensive industries is relatively smaller than those in capital-intensive industries. As a result, labour laws get stringent as a firm's work increases. This encourages firms in the labour-intensive sectors to remain small.
But as small firms typically lack the incentive to look for and develop export markets, they end up operating in localised markets.
NITI Aayog cited the example of the apparel sector to buttress its points. Research shows that firms in the apparel sector in India are usually smaller than those in other countries.
For instance, over 80 per cent of workers in the apparel industry were employed by firms employing less than eight in 2005, whereas China employed less than even one per cent workers.
Photograph: Reuters.