Getting an assurance from the Apple CEO on manufacturing in India will mean much to the NDA government.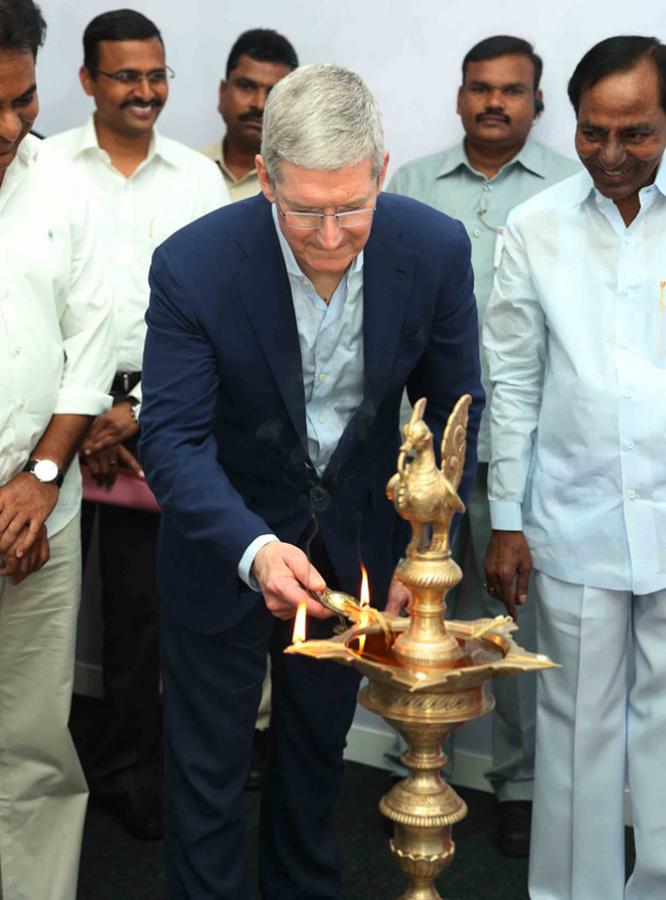 Image: Getting an assurance from Cook on manufacturing in India will mean much to the government. Photograph: Snaps India
Manufacturing in India is going to be the top talking point when Apple Chief Executive Officer (CEO) Tim Cook meets Prime Minister Narendra Modi on Saturday, it is learnt.

There may not be any announcement just yet, but a source in the government confirmed that the PM is likely to tell Cook that India would want Apple to manufacture in India.
The discussion between the two may also revolve around the National Democratic Alliance (NDA) government's stand that Apple cannot just import and sell refurbished iPhones in India without setting up a manufacturing facility in the country.

The government is also expected to convey to Cook a decision that it has taken on waiving the local sourcing conditions for Apple so that it can open its fully-owned branded retail stores in the country.
Make in India has been a signature campaign of the NDA government and getting an assurance from Cook on manufacturing in India will mean much to the government, which is set to complete two years in office next week.
"Apple is welcome to start manufacturing in India," said an official close to the development, when asked about the focus of the government's engagement with the tech giant.
Earlier, when Modi had met Cook at the Apple headquarters in the United States, the two had discussed the possibilities of manufacturing in India.
Recently, Apple's proposal to import and sell refurbished iPhones in the country was rejected by the government. The third phase of Cook's visit, when he flies to New Delhi on Friday, is being watched keenly.
Besides meeting Modi, he's set to interact with key Cabinet ministers, including Finance Minister Arun Jaitley, Information Technology and Telecom Minister Ravi Shankar Prasad and Commerce Minister Nirmala Sitharaman.
On Friday afternoon, Cook will meet Bharti Chairman Sunil Bharti Mittal. For Apple, Bharti is a distribution partner in India. Earlier in Mumbai, Cook met Tata Group Chairman Cyrus Mistry and top executives of Vodafone and Tata Consultancy Services.
In the second leg of his visit in Hyderabad on Thursday, before flying to New Delhi with a halt at Kanpur to watch an Indian Premier League cricket match, Cook met political leaders of Telangana, including Chief Minister K Chandrasekhar Rao and inaugurated the company's tech development centre at Waverock IT Park. With this, the Hyderabad centre has become the largest tech development facility outside the US for Apple.
Apple is looking to develop India as a market that will offset declining iPhone sales in markets such as the US and China. In the quarter ended March, iPhone sales fell 16 per cent globally, while sales in India grew 56 per cent.
The company's largest global manufacturing partner Foxconn has already signed a joint venture with the Adani Group to manufacture Apple products in the country.
(With inputs from Dasarath Reddy in Hyderabad)