If even a fraction of the 175 GW target is achieved, India's reliance on coal and oil would be reduced, says expert.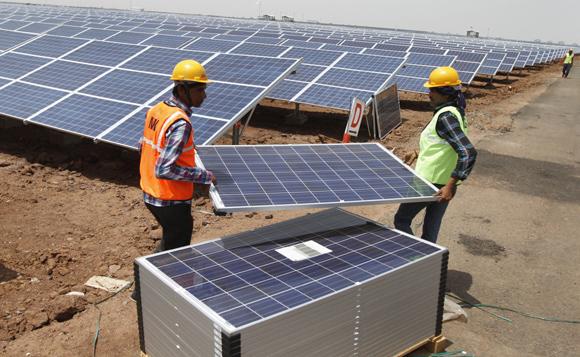 Among Prime Minister Narendra Modi's many engagements during his two-day visit to Silicon Valley is the 'Renewable energy roundtable conference' being held at the Fairmont Hotel in downtown San Jose, that is being hosted by StanfordUniversity's Precourt Institute for Energy and the US department of commerce.
Signalling his government's resolve to reduce dependence on fossil fuels, Modi, soon after coming to power last year, had announced a US $ 100 billion investment towards this end. During a high-level meeting in Washington, DC, on September 21, Piyush Goyal, minister of state for power, coal, new and renewable energy, announced the government's ambitious plans to deploy 175 GW of renewable power capacities by 2022, including 100 GW of solar and 60 GW of wind power.
Clearly, renewable energy sources are a big thing for India at the moment, so what role would Precourt Institute play in meeting Modi's target?
Professor Krishna Saraswat, who represents Stanford in SERIIUS – the Solar Energy Research Institute for India and the United States (that is co-led by the Indian Institute of Science, Bangalore, and the National Renewable Energy Laboratory Golden, Colorado) – and Rickey/Nielsen chair professor, department of electrical engineering, told Rediff.com that while he welcomed Modi's solar energy initiative, he should focus on 'Make in India' even when he talks about solar or renewable energy.
"100 GW is a huge number," Professor Saraswat said, and added that after Modi announced his ambitious solar expansion plan many international companies have evinced an interest in India.

A few months ago, Professor Saraswat said, they met US Assistant Secretary Nisha Desai Biswal along with other professors to discuss Modi's visit to the West Coast and his interest in Precourt to promote renewable energy in India.

"But again, this will make India heavily dependent on foreign imports and that would be a mistake," Professor Saraswat acknowledged.

He said, "Currently we are relying mostly on China-supplied solar modules. It's not just that, we are also importing the associated parts, batteries, the control systems and more. So what needs to be done is to set up a manufacturing infrastructure for these things."

"The Indian government really needs to start manufacturing and educating people to produce, all the way from engineers to technicians, all these are needed and it's not an easy task."

Asked why people would buy 'Make in India' products when China offered them cheap, he said China has taken the huge initiative in solar and was selling cells and panels at a subsidised price to the world.

"But I think that will not continue because the subsidies are gradually disappearing due to China's economic problems. So that is a good opportunity for India," he said. "It's Modi's objective too, to manufacture low-price, high-efficiency solar systems and I support his objective."

Terming the proposal to generate hundreds of GW in a given time frame "as an ambitious project," Professor Saraswat said, "It makes a lot of sense. Even if a fraction of that is achieved, then India's reliance on coal and oil would be reduced."
Image: A file photograph of the Gujarat solar park being set up. Photograph: Amit Dave/Reuters.