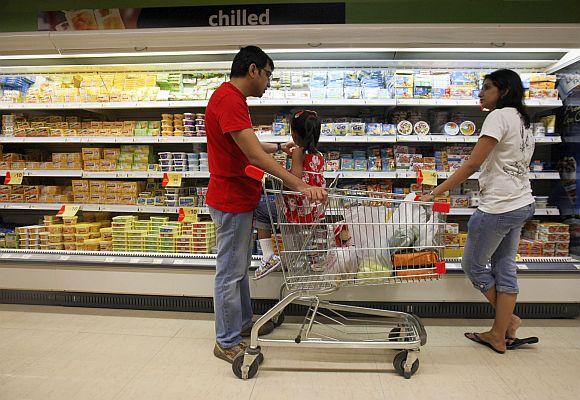 While most of them are still making losses, organised food and grocery chains are seeing a silver lining on the sales front, due to growth in inflation, increase in consumption levels and conversion from traditional to modern retail.
Aditya Birla Retail (ABR), Spencer's Retail, Raheja-owned Hypercity and Tata-led Star Bazaar, all of which either launched or started serious expansion during 2006-07, come in this category.
ABR, set up seven years earlier, posted a 20 per cent growth in sales over a year earlier for 2013-14. Its losses widened from Rs 583 crore in 2012-13 to Rs 596 crore in FY14.
With 490 supermarkets and 14 hypermarkets under the More brand, it was looking to break even in FY13.
Spencer's Retail, an RP-Sanjiv Goenka Group company, which opened stores under the Spencer's brand in 2006, posted eight per cent growth in FY14 sales numbers and the chain's losses came down from Rs 209 crore in FY13 to Rs 166 crore in FY14, according to its parent CESC's Qualified Institutional Placement documents.
Spencer's, which missed its break-even targets on a couple of occasions in the past, is looking to slip out of the red in the next couple of quarters.
"The shopping basket of people has increased and they look towards modern retail to satisfy their demand," said Arvind Singhal, chairman of Technopak Advisors.
Abheek Singhi, senior partner and director at Te Boston Consulting Group, agrees. "Overall consumption is increasing. Even if GDP growth is five per cent and inflation is growing at nine per cent (annually), 14 per cent growth comes from that," he says.
Pranab Barua, business director, apparel & retail, at ABG, said the group had transformed the organisation with strong double-digit like to like growth with improved assortment, localised merchandise, better shelf availability and customer experience. Barua said ABR's outlets are profitable at the store level.
At Shoppers Stop-owned Hypercity, the chain has achieved profitability at the Ebitda (earnings before interest, depreciation, taxes and ammortisation) level and according to analysts, is looking to break even at the profit after tax level by FY16.
Hypercity's sales went up six per cent during the second quarter (Q2) of the current financial year. Its losses come down from Rs 25.8 crore in Q2 of FY14 to Rs 16.4 crore in Q2 of FY15.
Hypercity had increased the share of the fashion category, which carries high margins, and reduced the size of stores to improve profitability, Shoppers Stop's managing director, Govind Shrikhande, had said earlier.
"Most retailers are yet to develop a right business model for this segment. Not so logical geographical expansion, too many products and wrongly sized stores have also not helped their pursuit of profits," said Technopak's Singhal.
Besides sales, grocery retailers are also seeing good expansion in Ebitda margins due to operating efficiencies and scale. ABR saw 14 per cent growth in its margins and Hypercity's went up 600 basis points (bps) during Q2 of FY15.
Edelweiss Securities believes the contribution of fashion to Hypercity's overall sales should rise to 19 per cent in FY16, leading to a 50-80 bps increase in its margins in FY16.