ITC's noodle brand has been caught in the Maggi crossfire. Can it turn the tide in its favour?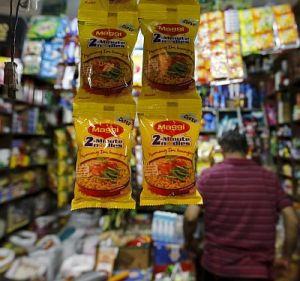 Noodles have been the flavour of conversations across the country, if not our daily menus over the past few months.

And even as Maggi gets ready to stage a comeback, the question really is, did other noodle brands gain in its absence?

And can they make the most of the six months before Nestle brings Maggi back?
Industry observers had predicted that ITC would gain the most from Nestle's crisis. It's Yippee! brand of noodles has the second largest share of the Indian market after Maggi (although the gap is yawningly wide).

But the story has turned out to be quite different. Instead of watching stocks race off the shelves, noodle makers including ITC have seen demand shrink. And ITC has even had to cut down its output in order to adjust production cycles with demand.

'There has been a drop in production, but all our units are functional. We hope to recover to peak volumes in a short while,' said V L Rajesh, chief executive of ITC's foods division.
But why did Maggi's loss not translate into gains for the brand? Yippee! has been growing at 40 per cent.

And according to market research firm, Euromonitor International, it was the only other brand with a double digit market share; in 2014 it had more than 10 percent share of the category which Maggi monopolised with 63 per cent.
The problem is that the entire noodles category has been singed by the Maggi fire. 'This is an unnatural scenario where the primary product has gone off shelves, in such cases it allows the second player to gain significant market share if it has a strong distribution network,' says Arvind Singhal chairman of retail consultancy Technopak.

For ITC, however, despite the distribution network, customers have not rushed in. According to trade channels, even though Yippee! was the major brand available in the market with Hindustan Unilever and Indo Nissin Foods pulling out their Knorr and Top Ramen brands, respectively, market shares failed to go up because the entire category suffered from a trust deficit.

'Noodles as a whole which normally accounts for 12 per cent of our packaged food sales dropped to a historic low, slowly it is improving but still stays in the lower single digit,' says an executive of a top retail chain.
ITC chairman YC Deveshwar recently said, 'The consumer now thinks that all MNC noodles are bad because one after another all noodle brands were asked to withdraw.'

There has also been confusion created by mixed reports of lead being found in other noodle brands too and then those reports being denied. Customers will take some time to get back their confidence in the product.
'We feel it is imperative to clear the air of confusion and reinstate consumer trust in the category. To this end we have embarked on communicating in an open and transparent manner with a reassurance campaign which is rooted in fact,' Rajesh said.

Also, the new TVC created by Ogilvy & Mather does not have a brand ambassador.

Instead it showcases the noodle manufacturing process to assure customers about quality and safety. 'This is a very intelligent move as it makes a rational appeal rather than an emotional one. With brand ambassadors remaining under the scanner after the Maggi fiasco, this move will have a lasting impact on the customer,' Harish Bijoor, a brand consultant, said.
Given that Yippee! has always been a challenger to Maggi, can ITC make the most of the six months before Nestle brings it back?
To answer that let's go back in time to President Obama's ascension to presidency in the midst of a Wall Street meltdown.

Quizzed about how the administration planned to tackle this, the then chief of staff Rahm Emanuel famously said, 'You never let a serious crisis go to waste, and what I mean by that is that it is an opportunity to do things you think you could not do before.'
ITC could do well to take a leaf out of his book.