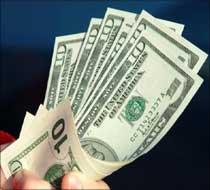 Amid economic uncertainties hurting business prospects, the value of M&A deals involving Indian companies nearly halved to $3.4 billion in the three months to September compared to year-ago period, according to global consultancy Ernst & Young.

In the September quarter of 2011, the overall value of M&A transactions stood at $6.9 billion.

Global consultancy Ernst & Young said on Tuesday the value as well as number of disclosed merger and acquisition deals slumped in the 2012 September quarter.

The M&A deal count fell to 161 in latest September quarter compared to 202 transactions in the year-ago period.

"The current economic environment both at the domestic and global level had its bearing on the Indian M&A activity in the last three months.

Besides, several cash-rich companies are playing the waiting game," E&Y Partner and National Director (Transactions Advisory Services) Amit Khandelwal said.

However, he noted that the recent flurry of policy reforms announced by the government should boost the investor sentiment and "consequently, M&A activity in the coming quarters".

E&Y said that outbound deals increased significantly in terms of value but decreased in terms of count.

"When compared to 3Q'11, this quarter's outbound M&A declined significantly in both deal count (from 42 deals) and deal value (from $3.8 billion).

"Besides the current economic headwinds, the reasons for India Inc's caution on foreign acquisitions could be the recent wave of resource nationalism sweeping the globe and a weak Indian rupee," E&Y
said in a statement.
In terms of inbound transactions, the deal value as well as count fell in the latest quarter compared to year-ago period.
"On a y-o-y basis too, inbound M&A decreased in both deal count (from 50 deals in 3Q'11) and deal value (from $1.2 billion in 3Q11).
"International buyers were cautious on M&As in India due to mismatch in valuation expectations, decline in the country's GDP growth and policy-related apprehensions," it noted.
With 21 deals, the technology sector recorded the highest number of transactions and third-highest amount of disclosed value at $494.5 million in the 2012 September quarter.
The majority of the deal value was contributed by Infosys' acquisition of Swiss consulting firm Lodestone Management for $348.8 million.
"The US continued to be the most-favoured target destination as well in the latest quarter, especially for companies in the technology sector. Indian companies made eight acquisitions in the US collectively worth $585.6 million," the statement said.
Among the high value deals was Sahara India Pariwar's acquisition of New York's Plaza Hotel for $570 million.