Some experts, however, see a silver lining in the fall and said the volatility has come down sharply and that bodes well for the Indian currency
It started weak, recouped some lost ground towards the middle, but soon lost track and the losses turned steeper towards the end of 2014. In the end, rupee remained a 'senior citizen' or 60-plus versus the US dollar for most part of this year.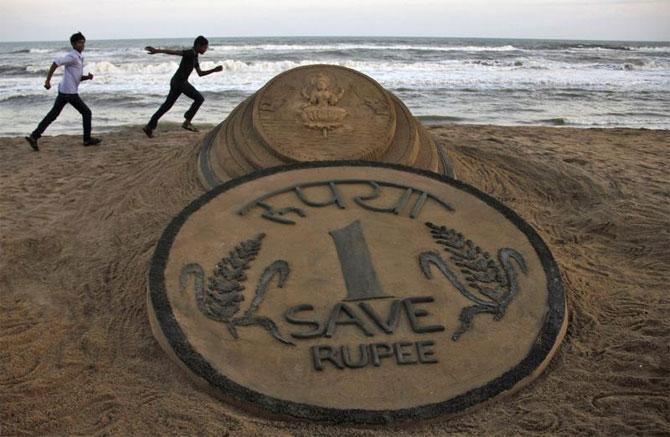 On an annual basis, the rupee has also lost ground for at least fourth year in a row, although the decline remains much lower at about 2 per cent against the US greenback so far in 2014. In comparison, the rupee had depreciated by over 11 per cent in 2013 and by more than 18 per cent in 2011. The decline was relatively smaller at about 3 per cent in 2012.
After starting at about Rs 61.80 level against dollar at the beginning of 2014, it is now hovering near Rs 63.6 against the US dollar, while just three days are left for trades this year.
Some experts, however, see a silver lining in the fall and said the volatility has come down sharply and that bodes well for the Indian currency.
"The rupee performed exceedingly well this year among emerging market currencies. We saw volatility coming down during this year," N S Venkatesh, executive director and head of treasury at IDBI Bank said.
"The RBI's stance to fight inflation and strong mandate to BJP gave the government a firm hand to carry out the much needed reforms, resulting in positive sentiments in the market and that boosted the rupee," he said.
After remaining sub 5 per cent for two years, the country's GDP grew at 5.5 per cent in April-September, 2014, reflecting revival in the economy. The GDP growth in the same period last year was 4.9 per cent.
According to Madan Sabnavis, chief economist, Care Ratings, "Rupee fared in a stable manner on strong balance of payment (BoP) and due to healthy flows from FIIs and FDI."
In January-September, 2014, the country's balance of payments was surplus 25.14 billion as against a deficit $8.02 billion in the year-ago period.
In January-September period, current account deficit narrowed to $19.28 billion as against $45.13 billion in the year ago period.
Foreign portfolio investors pumped in over Rs 2.57 lakh crore in to the domestic market so far in the current calendar year.
The fall in crude oil prices to near $60 per barrel from over $100 per barrel, also supported the currency.
For the most part of the year, the rupee moved in a narrow range of 58-62 levels against the US currency.
In 2013, the currency took a severe beating against the greenback after US Federal Reserve's hinted at winding down its easy money policy in May 2013. It plunged to its life-time low of 68.85 in August 2013, but recovered later with RBI, under the new Governor Raghuram Rajan, coming out with a slew of measures to curb currency volatility and build reserves.
"Last year, there were lot of speculative trades happening in the rupee, which led to massive volatility. This year, the RBI was seen persistently in the market on both sides (buying and selling dollars), which resulted in a fairly stable currency," said a senior forex dealer with a state-owned bank.
During January-November 2014, the RBI purchased $14.632 billion while it sold $13.858 billion. It net purchased mere 0.774 billion during the period.
The country forex reserve also increased to $316.833 billion as on December 12, which created a buffer to withstand any emergency.
After remaining stable for most part of the year, the rupee showed some depreciation in later part of November and early December.
The recent fall in the rupee was on account of widening trade deficit, increased domestic demand for the dollar and global uncertainty, analysts said.
In November, trade deficit widened to one-and-a-half year high of $16.86 billion due to over six-fold jump in gold imports. Last year in November trade deficit was $9.57 billion.
Gold imports stood at $5.61 billion in November this year as against $835.83 million in the corresponding month in 2013.
Analysts believe in 2015, the rupee will continue to remain stable supported by a steady inflows from overseas investors, with a pro-reform government at the Centre.
"Our fundamentals are strong. With government taking various steps to revive investments, inflows are expected into the country, which will support the currency," G Thiagarajan, director, Commtrendz Research said.
He said with Switzerland introducing a negative interest rate on deposits held by lenders at its central bank, there is a possibility of inflows into India also.
Japanese brokerage Nomura's economist (India) Sonal Varma said, "We are calling 2015 a Goldilocks year for India. Our medium term view is that macro policies in general, both the policies that the RBI is likely to follow and the reforms that the government is likely to announce, will lead to lesser volatility going forward and more macro stability."
Analysts see the rupee trading in a range of 60-65 against the US currency in 2015.
Next year one of the important events which market participants would be closely tracking is interest rate hike by the US Federal Reserve.
According to Crisil Ratings chief economist Dharmakirti Joshi, "India is better prepared to handle shocks arising out of an expected increase in the US interest rate next year."
He expects the rupee likely to appreciate once global volatility comes off.