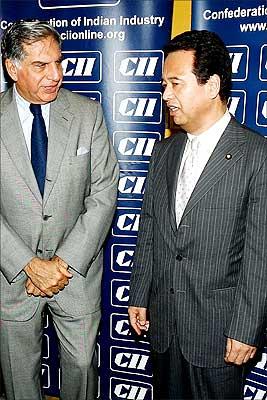 Akira Amari, Japanese Minister of Economy, Trade and Industry (right), with Ratan Tata, Tata Group chairman, in Mumbai on Tuesday.
Amari is on an official five-day
visit to India which began against the backdrop of talks on a free trade agreement in the Indian capital last week that ended with big differences.
India's exports to Japan in 2005-06 totalled $2.4 billion, while imports stood at $3.5 billion.
Indo-Japanese trade has been growing at over 20 per cent annually in recent years.
Photograph: Indranil Mukherjee/AFP/Getty Images