Livestock auctions remained on hold for the majority of the lockdown as there was no clarity on the matter.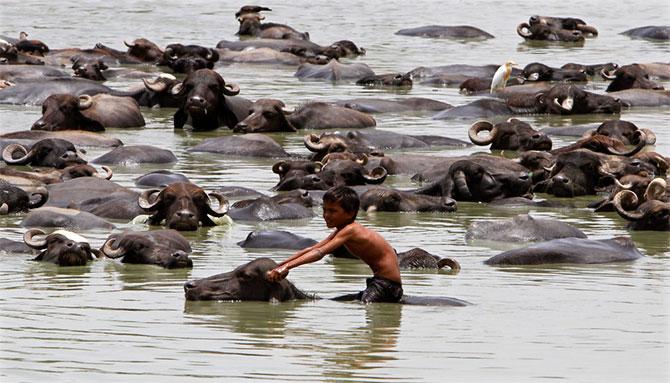 India's buffalo meat exports - the country second biggest agri-commodity export basket which netted $ 3.6 billion in 2018-19 - is one of the worst-hit segments following the imposition of a nationwide lockdown.
Livestock auctions remained on hold for the majority of the lockdown as there was no clarity on the matter.
Exporters don't have the raw material for processing despite demand for buffalo meat.
Since processing was on hold, the supply of tallow was also disrupted.
India is a major exporter of tallow despite a large domestic demand.
Even the supply of gelatine - a by-product of meat and leather industries - to the pharma sector is also not happening.
Exporters, however, said the government has assured all support, and by the end the month, their operation would normalise.
Since February, exports have been languishing because of less availability of livestock.
However, buffalo meat exporters now are expecting to wriggle out of the slump and regain the momentum by June-end.
Over two months of the lockdown, exporters have estimated the "loss of opportunities" to the tune of nearly Rs 5,300 crore.
Buffalo meat had been Number 1 item in the agri-commodities basket - administered by the Agriculture Produce Exports Development Authority, or APEDA, until FY17 in terms of value; it has since been overtaken by basmati rice.
"The lockdown was unprecedented and impacted all industries. Now, meat exporting units are slowly opening up," said All India Meat and Livestock Exporters Association (AIMLEA) Spokesperson Fauzan Alavi.
He is also the director of Allana Sons, which is among the country's leading buffalo meat exporters.
While buffalo meat shipments are expected to regain 50 per cent of the normal business by June end, the industry would come back to normal in two-three months, he said.
As of now, with livestock or animals not available with most producers, old stock from cold storage is being exported.
Last year, India's buffalo meat exports stood at about 1.23 million tonnes (MT) and valued more than $3.61 billion, compared to 1.35 MT and $4.03 billion, respectively, during 2017-18, according to the APEDA.
Until January 2020, the corresponding figures for 2019-20 stood at 1.08 MT and $3.011 billion, respectively.
The country's buffalo exports had hit the wall after buyers in the prime destinations in the Gulf and the Southeast Asian countries, accounting for nearly 2/3rd of the total meat export basket, stopped placing fresh orders following the COVID-19 pandemic.
"However, the biggest challenge facing us now is the lack of clarity regarding the resumption of livestock markets in states.
"Unless the livestock markets are operational, our value and supply chains would remain incomplete," Alavi added.
Photograph: Amit Dave/Reuters