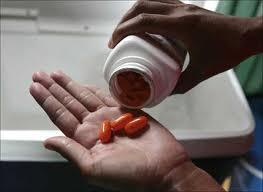 Domestic pharmaceutical companies are worried over various international drug regulators working in coordination for keeping a check on manufacturing practices and ensuring quality of medicines, whereas there is absence of harmonised norms.

"While the US FDA (Food and Drug Administration) has opted for stringent inspections and measures, various other regulators are following them blindly.

"This can lead to a dangerous situation because each country otherwise have their own criteria and norms for approval.
"In the absence of harmonised norms, a coordinated actions by regulators may make things difficult for companies," said a senior industry official working for a domestic pharma major.

Various domestic companies such as Ranbaxy, Wockhardt and Agila Specialities recently came under the US FDA scanner for lapse in manufacturing practices.
Some of these companies like Wockhardt have also attracted enforcements by other regulators, mainly UK's Medicines and Healthcare Products Regulatory Agency.

MHRA has so far taken action on three Indian facilities of Wockhardt, two of which are also barred from supplying to the US.

"Increased focus of the US FDA and inadequate appreciation of the fast and frequently changing rules by the domestic companies could result in more companies facing sanctions," said DG Shah, secretary general of Indian Pharmaceutical Alliance.

Domestic drug manufacturers say companies often fulfil criteria keeping in mind the target country.

However, in the absence of harmonised norms, they are worried that they may have to face actions in one country for not meeting norms specified by another regulator if countries start coordinating among themselves.

Industry officials also point out that since the US FDA is the most stringent regulator, increased enforcements by it could influence regulators in other developed as well as emerging markets.

Domestic pharmaceutical companies clock 60 per cent of their revenues from exports, most of which is comprised of generics.

India, home to 200 FDA-approved drug making units, is the second largest supplier of pharmaceuticals to the US.

Pharmaceutical exports to the US rose nearly 32 per cent last year to $4.2 billion. India accounts for nearly 40 per cent of generic drugs and over-the-counter products and 10 per cent of finished dosages used in the US.

The share of other major generic drug manufacturing countries, such as Japan, Israel and China, is much lower.