Industry watchers attribute a lot of the current successes of the $6 billion Hero Group to how B M Munjal planned and executed succession in HeroCorp, balancing the interests of other family-owned businesses.
Sudipto Dey reports.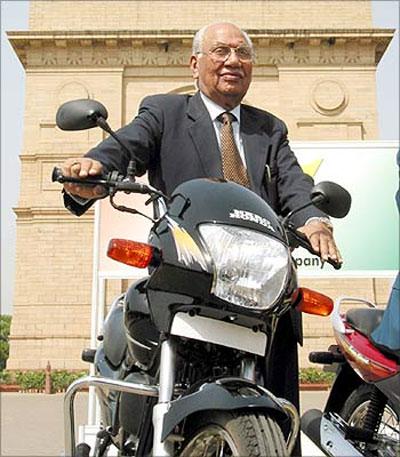 At a time when questions are being raised on corporate India's track record in succession planning and transfer of power, the late Brijmohan Lall Munjal (B M Munjal), the founder of the $6 billion Hero Group and the two-wheeler major HeroCorp, could give a lesson or two on how to go about any succession transition.
Last week HeroCorp reported stellar financial performance in its July-September quarter for FY17. Net profit for the quarter touched all-time high at Rs 1,004 crore (Rs 10.04 billion), as against Rs 786 crore (Rs 7.86 billion) during the same period, last year -- a jump of 27.7 per cent.
Net sales increased by 14.5 per cent year-on-year (y-o-y) to Rs 7,796 crore (Rs 77.96 billion) in the second quarter of the current financial year.
Analysts tracking the country's largest two-wheeler company expect volumes growth to improve in the coming months, riding on positive consumer sentiment following a good monsoon.
There is plenty of looking back at this point as exactly one year ago, on November 1, 2015, group founder B M Munjal passed away.
Indeed, industry watchers and analysts attribute a lot of the current successes of the group to how the senior Munjal planned and executed succession in HeroCorp, balancing the interests of other family-owned businesses.
The Munjal brothers -- B M Munjal, O P Munjal, Satyanand Munjal and Dayanand Munjal -- started off in the early 1940s as a bicycle-maker. The Hero Group officially came into existence in 1956.
Apart from the flagship two-wheeler business, that commands around 50 per cent market share in the country, the Munjal family has interests in auto components and ancillaries, knowledge processing, insurance distribution, infrastructure development, among others.
Company insiders said B M Munjal ensured early on in the group's business journey that all transactions with family-owned companies are at arm's length and get no preferential treatment.
Before he passed on the management baton in Hero Honda, the erstwhile joint venture of Hero MotorCorp, to two of his sons -- Pawan Munjal and Sunil Kant Munjal -- both went up the corporate ladder through hands-on operational experience gathered over several years.
As the Hero Group prepared for life beyond its 26-year-old joint venture with Japan's Honda Motor Company, B M Munjal first went about untangling cross-ownership of the family in the group's various businesses.
Post the settlement, the B M Munjal family retained control over Hero Honda, Hero Corporate Services, Rockman Cycles Industries, Hero Mindmine Institute, Easy Bill and Hero Management Service.
Elder brother Satyanand Munjal's son Yogesh Munjal took charge of Munjal Showa, while Ashok Munjal, the late Dayanand Munjal's son, controlled Sunbeam Auto.
A year later in 2011, B M Munjal and family bought out the Japanese joint venture partner to strike out on its own under the flagship brand Hero MotoCorp.
The group augmented its global presence to sell products in 34 countries across Asia, Africa, Central and South America. Plans are now afoot to expand its international presence to 50 countries by 2020.
In August 2014, B M Munjal gave up the chairman's position to Pawan Munjal, while Sunil Munjal continued to remain joint managing director of the company, while being chairman of Hero Corporate Services.
Then, nine months after B M Munjal's demise, the family decided to realign its businesses.
Sunil Kant Munjal quit the Hero MotorCorp board, while he continued to lead other Munjal family businesses such as Hero BPO, Mindmine, Hero Realty, and Hero Corporate Service.
"The fact that the splitting of the family business did not have any negative impact on the flagship two-wheeler brand is a huge positive," said a Mumbai-based auto analyst who tracks the group closely.
Sunil Kant Munjal is now expected to lead the group's foray into sectors like defence, power and realty.
According to Kavil Ramachandran, executive director, Thomas Schmidheiny Centre for Family Enterprise at the Indian School of Business, what worked for the Munjal family in its succession plan and its execution over the years is their clear vision for the pre-B M Munjal and post-B M Munjal eras.
"The family has been deeply involved in the operations of the business with clarity in role of the family members," said Ramachandran.
The succession planning and its execution were spread out over years with the transition handled by the senior Munjal himself, helped mitigate any bumps on the way, said analysts.
There could be a lesson or two for those in the middle of the Bombay House battle on how B M Munjal handled the transition and transfer of power in his $6 billion group to the next generation.
IMAGE: The late B M Munjal astride a two-wheeler his company manufactured near India Gate. Photograph: Reuters