Costs on the outskirts soar 50-100% through past year
The prices of land on the outskirts of Delhi, where farmhouses are permitted, have soared 50-100 per cent through the past year. The rise in prices was triggered by the Delhi Development Authority (DDA)'s proposal to allow farmhouses with floor area of an acre (4,840 sq yards), against the previous requirement of at least 2.5 acres. DDA also proposed the floor-area ratio (FAR) limit be raised by a third.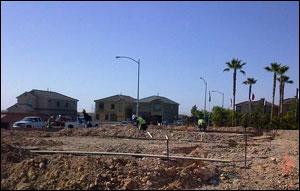 FAR is the total square feet of a building divided by the total square feet of the plot the building is located on. An FAR of two means the total floor area of a building is two times the gross area of the plot on which it is located.
The proposals have put farmhouses in direct competition with independent houses in some of the posh localities in Delhi, including Shanti Niketan/West End, Golf Links, Jor Bagh and Sunder Nagar.
Ramesh Menon, director, Certes Realty, said, "In some villages, prices have doubled, while in others, it has gone up by at least 50 per cent in the last one year." In fact, the price appreciation started even before the DDA proposals were announced. Expecting these announcements, investors had started buying land, Menon said, adding in the next one year, prices were expected to further increase by up to 50 per cent.
In recent months, the number of deals for one-acre plots has also seen a rise.
Several plots would be made available by the government in Zone N (Northwest), with 10 villages, and Zone L (Southwest), with 27 villages. In Zone N, prices stand at Rs 1.5-3 crore an acre, depending on the location. In Zone L, prices are Rs 2.5-6 crore an acre. Farmhouses are located in other zones, too.
In Gurgaon, land/farmhouses on Sohna Road cost Rs 3-3.5 crore an acre; in a few locations, prices stand at Rs 1.5 crore an acre. In comparison, an independent house in Golf Links/Jor Bagh and Sunder Nagar costs Rs 1.1-1.35 crore a sq yard, a rise of 63-86 per cent compared with the prices in 2010, according to data by international real estate research firm CBRE.
While the new one-acre farmhouses, referred to as 'country homes', would be allowed a higher FAR of 20, this could be further increased after paying additional charges.
Sumit Jain, chief executive and co-founder of Commonfloor.com, said, "The one-acre farmhouse would become the preferred choice for people who want to have second homes and, of course, for investors. We have seen a lot of demand from NRIs (non-resident Indians) for these one-acre plots." He added many property agents/brokers were entering this business and buying land for reselling, as demand was expected to rise.
Though Zone L was an investment hotspot, investors would face hurdles related to electricity, water and roads in the new areas allocated in the green belt, he said.
About 2,500 farmhouses developed before February 2007 and exceeding the construction limit would be regularised, after penalties were paid for these. "All existing farmhouses in the proposed urban extension area that had come up prior to February 7, 2007, but accorded after that date by the regulatory authority shall be regularised and re-designated as country homes," DDA had said.
Though some experts feel prices in south Delhi might come under stress, owing to direct competition with one-acre farmhouses, many think as farmhouses cater only to a niche segment, there won't be any impact on prices of properties in south Delhi. Manish Mehta, vice-president, IndiaHomes, said, "Farmhouses cater to a niche segment, not to all. Prices also depend on the demand-supply situation. The price points for this segment are still on the higher side."
Experts said one-acre farmhouses would primarily be second homes or weekend getaway options for many and, therefore, it wasn't correct to compare the prices of these properties with those in south Delhi.