The Land Acquisition Bill is to go for approval of the Union Cabinet in two weeks, Rural Development Minister Jairam Ramesh said on Friday.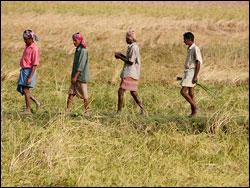 He confirmed that a few points in the Bill were being reviewed by members of the GoM and a report would be ready for Cabinet in two weeks.
One of the points that is being reconsidered is the requisite number of people whose consent is required for any acqusition of land by Government.
The Bill was with a Group of Ministers for finalisation of key issues and an agreement had been reached before objections were raised by the party leadership, sources said.
The one that had first gone to the Standing Committee was criticised on the issue of eminent domain or the presumed Government ownership of all land. This principle gives the Government the authority to acquire any land.
The Standing Committee had shot down this principle and had said that no land should be acquired on behalf of private sector or for public private partnerships.
The Rural Development Ministry  diluted this suggestion to amend the draft requiring consent of 80 per cent of land owners and affected families as pre-requisite for acquisition of land for private sector.
When the Bill went to the GoM, this was further diluted to require only consent of two thirds of the land owners for any acquisition.
The GoM is now reviewing this now as Congress president Sonia Gandhi has objected to the dilution, sources said.