The LaLit plans to market its iconic Indian food restaurant Baluchi separately and take it abroad too.
IMAGE: Baluchi, The LaLit, London. Photograph: Kind Courtesy www.thelalit.com.
The LaLit Suri Hospitality Group is trying to do with its pan-Indian restaurant Baluchi what diversified conglomerate ITC had once done with its iconic Bukhara restaurant, carving out a separate identity and taking it to foreign shores.

"Baluchi will have its own identity, its own website. The marketing and public relations for Baluchi and the hotel will run parallely," said Keshav Suri, executive director of the LaLit Suri Hospitality Group.

Baluchi is now housed in six of the 13 properties owned by the group, but their numbers will grow.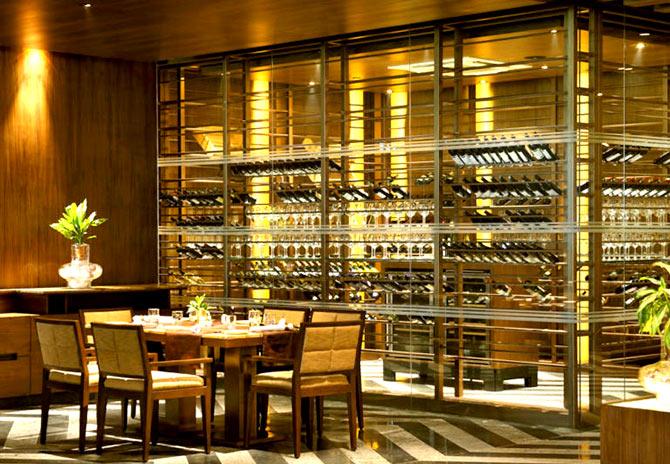 IMAGE: Baluchi, The LaLit, New Delhi. Photograph: Kind Courtesy www.thelalit.com.
"Kolkata, too, will have a Baluchi soon," Suri said.

The idea of creating a separate identity for Baluchi may have come from LaLit's newly opened London property, a 180-year-old building that once housed the erstwhile St Olave's Grammar School, just off Tower Bridge in London. The property was bought by the group at a Christie's auction in 2012 for 15 million pounds.

"The Baluchi there is magnificent. It is where the school assembly used to take place, so it is built like a cathedral. The ceiling is cobalt blue, as are the four-tonne Hyderabadi chandeliers," Suri added.

"Food and beverage is big in London and hotel restaurants have a negative connotation. This restaurant cannot be treated like a hotel restaurant. It has to be treated as a separate business unit. And I want people to come and tell me that they want a franchise of Baluchi in Scotland, Ireland or Paris," he said.

Suri is contemplating taking Baluchi to the US, much like ITC had taken Bukhara to New York and Chicago in the 1980s.

"In the next five years, I see us consolidating and focusing on extended brands like Kitty Su (their night club), Baluchi, 24X7 (their coffee shop), as well as taking these brands to different parts of India and the world where we do not own properties," Suri said.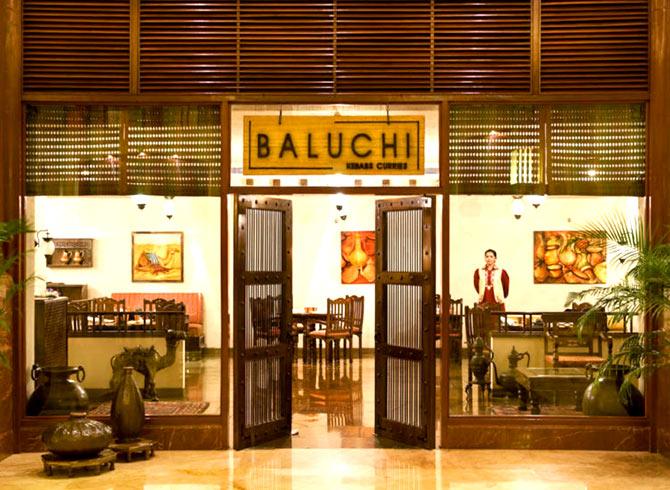 IMAGE: Baluchi, The LaLit, Mumbai. Photograph: Kind Courtesy www.thelalit.com.
Plans for brands like Kitty Su could take some time to materialise, but Baluchi is definitely going on its own. Offers are already on the table for Noida and Gurgaon. The model will be a franchise one.

Food will be a big future business for the LaLit Suri group. A separate outdoor catering vertical will be created under the Lalit Food Truck Company. Currently, as part of the LaLit Suri Hospitality Group, three food trucks are operational. But by the end of next year, another three will be added.

"It is part of our group. But I am going to make it a separate company. It is becoming bigger," said Suri.