As the Centre faces multiple hurdles, BJP-governed states such as Rajasthan, Madhya Pradesh and Gujarat have swiftly moved in to usher in radical reforms as they aim to take a larger share of the FDI pie.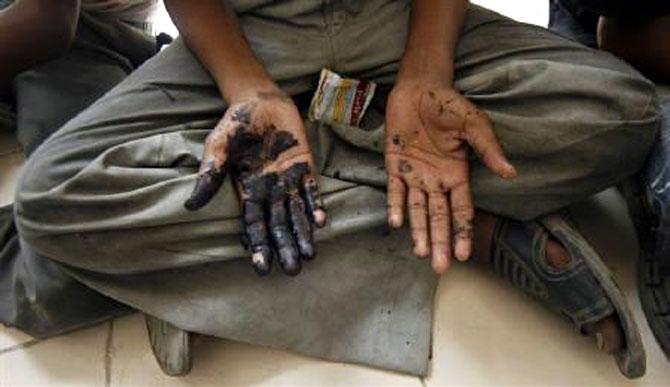 On Labour Day (May 1) last year, Union Minister of State for Labour Bandaru Dattatreya wanted to create a feel good factor. He launched a programme of consolidating multiple provident fund accounts.
He invoked BR Ambedkar to announce pro-worker steps like fixing a minimum wage and extending social security schemes to unorganised workers. However, Dattatreya was silent on the long-pending labour reforms.
Refusing to bite the bullet, he said, "As a founding member of the ILO, India is committed to the principle of tripartism. The ministry has put in its best efforts to reach a consensus on all issues and many tripartite discussions have been held before taking decisions."
Under fire from trade unions over multiple issues, the government decided to put its ambitious labour reforms on the backburner. So much so that Prime Minister Narendra Modi, in an interview to a foreign publication, discounted the impact of labour reforms on economic growth.
As the Centre faces multiple hurdles, BJP-governed states such as Rajasthan, Madhya Pradesh and Gujarat have swiftly moved in to usher in radical reforms as they aim to take a larger share of the FDI pie.
"States need to understand that such changes will be favourable to them for creating a job market, cooperative federalism is always positive," the official said. According to reports, the Centre has made changes to the draft of the Factories Act, 1948, to allow states to take a call on the number of workers a unit has to employ to be covered under the law.
Rajasthan has been the pioneer in labour reforms. It has relaxed the provisions of the Factories Act, Industrial Disputes Act, Apprentices Act and Contract Labour Act. Madhya Pradesh has amended at least 20 labour laws, including 17 central ones, such as the Industrial Disputes Act, Factories Act and Shops and Establishments Act.
The Maharashtra law department, according to a notification, has amended the Contract Labour (Regulation and Abolition) Act to make it applicable only to establishments in which 50 or more workers are employed.
This means smaller units employing up to 49 workers will not be required to register themselves with the government. "We will ensure strict compliance of the law," Shweta Singhal, deputy secretary, labour, said.
Owen Jolie, a researcher at the Centre for Strategic and International Studies, says, "If the Union government is unable to introduce comprehensive investor-friendly labour laws at the national level due to political resistance, it will remain incumbent on India's states to decide if they want to take the political risks necessary to enact difficult reforms such as deregulating labour laws."
However, with a favourable outcome in Uttar Pradesh, expectations of resuming the process have revived. According to labour ministry officials, the government plans to introduce two labour Bills in the second half of the Budget session, a move that will be opposed by labour unions. These Bills are the Industrial Relations Code Bill, 2016, and the Wage Code Bill, 2016.
If passed, the Industrial Relations Code would facilitate easier hiring and retrenchment in factories, the first official said. A previous draft of the proposed law suggested that companies need not seek approval for retrenching up to 300 employees in the case of an emergency.
The Wage Code will consolidate all wage laws, and the a proposed Social Security Code will amalgamate all social security laws including Employees' Provident Fund and Miscellaneous Provisions Act, Employees' State Insurance Act and Maternity Benefits Act.
Labour ministry officials say all formalities including tripartite consultations with trade unions have been done and the approval of the law ministry secured.
"For nearly two years, the labour law consolidation process is almost in cold storage. Though the labour ministry has done a lot of work over these labour codes for a year, the administration was not very enthusiastic, maybe due to political reasons," said one of the two officials.
The Wage Code Bill was sent to the cabinet by the labour ministry, but has been returned to the GoM, headed by Jaitley, for review.
"If it is not possible to pass these in this session, it expects to definitely do so in the next session," said a senior labour ministry official.
Trade unions say they see no visible positive impact of labour law reforms on the job market. "Have we seen the job situation improving in those states? No. Have we seen vigilance going down? Yes.
These are attempts to snatch away the fundamental rights of workers. We had taken to the streets in Rajasthan, we will oppose this too," Brijesh Upadhyay, general secretary of the Bharatiya Mazdoor Sangh, the trade union wing of the ruling BJP government, told Business Standard.
Will the government be ready to bite the bullet and with electoral support behind it?
Photograph: Adnan Abidi/Reuters