The labour force at large has turned less needy, due to various government financial incentives and freebies.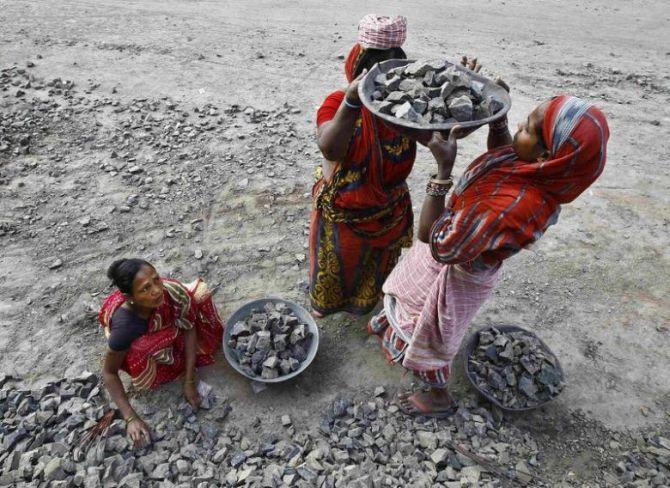 The infrastructure sector is trying to address not only a financial crunch but also a shortage of skilled labour.
Also, manpower costs in the sector have risen in three years by a little more than 50 per cent.
According to the latest National Highways Construction Cost Index data, issued this June, the index for labour cost was at 185, compared to 110.2 in April 2014.
Labour is eight to 10 per cent of road construction cost.
Experts point to a higher thrust on infrastructure development, lack of skilled labour and government incentives to the rural population, where the major part of construction labour would come from.
"Other costs have been quite stable for a long time; labour costs are increasing.
"The labour force at large has turned less needy, due to various government financial incentives and freebies," said K K Mohanty, managing director, Gammon Infrastructure and Projects.
"Demand is more than supply, with the increasing thrust on infrastructure. Also, costs have seen an increase for organised labour contractors on account of better facilities being provided - habitation, health care, food, etc.
Further, the new Goods and Services Tax on labour contracts raises the cost, though the increase is a pass-through," said Shubham Jain, vice-president at ratings agency ICRA.
The higher labour cost would not impact construction of new roads, as these are factored for in the concession agreements.
However, an unexpected rise will impact the margins for developers with a portfolio of operational projects, where the developer needs to absorb the rise in these costs for road maintenance.
"In the past few years, minimum daily wages have moved up from Rs 150-200 to Rs 300-400.
"This has led to certain developers and private equity (PE) firms to look at short-term operations and maintenance contracts to manage overall costs efficiently.
"Short-term operation & maintenance (O&M) contracts gives flexibility in replacing O&M contractors," said Ratnam Raju, associate director, India Ratings and Research.
Cube Highways and Infrastructure and Brookfield Asset Management are two PE entities to have taken stake in road projects in the past two years.
Sector experts say these foreign PE firms also have access to more advanced technologies, which could help cut on manual labour requirements.
"Most PE players are hands-on with operations and, so, are looking at short-term contracts, with smaller contractors.
"Such players are also bringing in higher mechanisation, in a bid to cut down labour involvement and, thus, costs," said Jain from ICRA.
Photograph: Rupak De Chowdhuri/Reuters