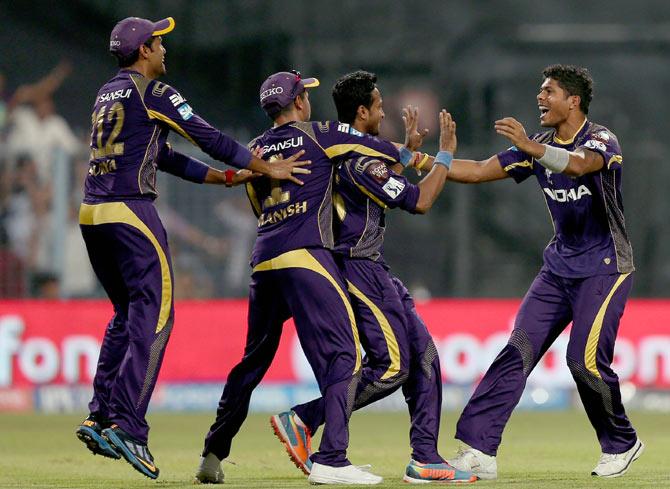 When Manoj Tiwary pulled the ball towards square-leg in the final of the IPL 2012, Kolkata Knight Riders turned marked its turnaround, after a few years of flagging fortunes.
After five unsuccessful seasons, it was the franchise's first win. Its champion's run again in 2014, the seventh season, sealed its standing among the top IPL teams.
Although owner Shahrukh Khan's brand equity always lent a strong hand to the team, two wins in three years propped it up as a premium property for sponsors.
The team's sponsorship revenue increased by at least 15 per cent over 2014.
"Existing sponsors have contracts which have a mandatory 10 per cent increase clause, and winning the league has helped the team to close new sponsorship deals at 10 to 15 per cent premium over last year," says a senior KKR official.
Industry estimates say that the franchise is slated to earn around Rs 75 crore (Rs 750 million) from sponsorship deals this year.
It was only the second season for Venky Mysore, the 56-year old CEO, when KKR first became champion.
Under the cricketer-turned-insurance executive's leadership it invested in a new team and reaped instant benefits.
"A hike in sponsorship deals is natural for any successful sporting teams and it is the same for KKR," says Mysore. Knight Riders Sports, the holding company of KKR, has been the most profitable with net profits of Rs 10.42 crore (Rs 104.2 million), Rs 6.34 crore (Rs 63.4 million) and Rs 9.18 crore (Rs 91.8 million) in the last three financial years; it was also the first to break even.
Once Microsoft decided to withdraw Nokia, which it bought in 2014, as KKR's principal sponsor, because of a 'change in policy', the Chinese mobile brand, Gionee, stepped in. Nokia had been onboard since the inaugural season.
Gionee's sponsorship of three years will put Rs 54 crore (Rs 540 million) in KKR's kitty, and put the brand on the front of the team's shirt and stadium signage.
William Loo, president, Gionee Communications, says, "Similar to the franchise-owner Sharukh Khan, Gionee started at the bottom and now is at the top in its territory."
KKR has been able to retain most of its sponsors from the previous season such as Sansui Electric, US Polo Assn, Royal Stag, Dish TV, Seiko and Manyavar.
Ten out of the 16 sponsors will appear on team's apparel (jerseys, helmets).
The new sponsors are radio network, Red FM, GEC Colors and the taxi-hailing app, Uber.
Sources close to the franchise say that the new deals will fetch around Rs 15 crore (Rs 150 million).
Analysts say that the team's significant investment in brand-building has won it support from both supporters and sponsors.
"In IPL, the brand value of a franchise is derived from a wide variety of reasons like on-field performance, management strength, marketing strategy, geographical location and celebrity influence, and KKR has got a substantial mix of all these and hence, is considered as the strongest brand in IPL," says Varun Gupta, managing director, American Appraisal, a valuation and consulting firm.
With a tagline of 'Go4more' and a strong start to their campaign, the franchise is set to see a boost in performance and brand value.
In principal sponsorships, however, observers say that KKR trails Mumbai Indians, which has two big spenders in Jet Airways and Etihad, both airline brands.
Chennai Super Kings and KKR often tie at the second spot in the sponsorship pecking order.
Among the top three franchises
Industry estimates say that the franchise is slated to earn around Rs 75 crore from sponsorship deals this year
In principal sponsorships, however, observers say that KKR trails Mumbai Indians, which has two big spenders in Jet Airways and Etihad, both airline brands
Chennai Super Kings and KKR often tie at the second spot in the sponsorship pecking order
The holding company of KKR has been the most profitable and was also the first to break even
The image is used for representational purpose only