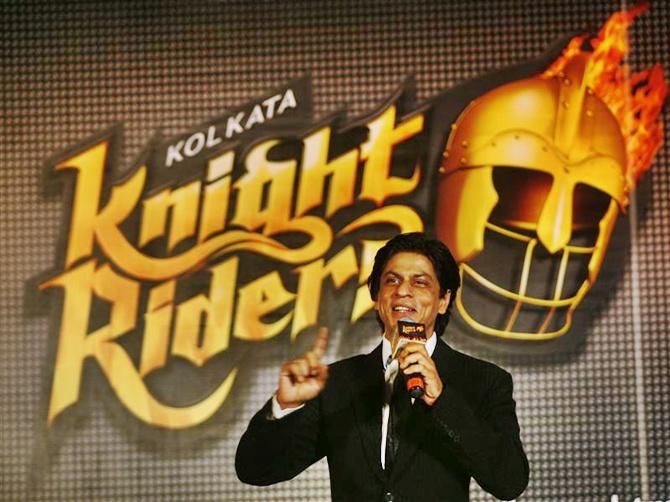 It's not just Indian Premier League charts Red Chillies Entertainment wants to rule with the Kolkata Knight Riders franchisee.
It plans to make global acquisitions of cricket teams with the Knight Riders brand name and logo and build its merchandising business on these.
Last year, Red Chillies Entertainment picked up a stake in Trinidad and Tobago Red Steel, one of the six original teams in the Caribbean Premier League, which won the 2015 season.
Subsequently, the team was renamed Trinbago Knight Riders and sports the same icon, logo, emblem and colours of KKR.
"IPL is a matter of two months.
"The challenge is how to keep the brand alive for the rest of the year and engage our fans.
"We may acquire one or two more teams elsewhere," KKR's Chief Executive Officer and managing director Venky Mysore said.
He said he was open to team acquisitions in football and other sports as well.
Marketing promotions and brand identity centre around the flaming helmet icon logo used for both KKR and TKR cricket teams.
Mysore said this way, the common logo gets extended to an international market and will give the brand a global appeal.
However, the firm is not keen on picking up a football team in the Indian Super League or I-League at the moment.
"There is no broadcast revenue in these leagues at the moment and it needs tweaking. Also, the operating expenses in football are higher than cricket," he said.
The company has partnered with Lux Cozi and plans to take its team's apparel to the masses.
It is looking at maximising apparel sales by utilising Lux Cozi's vast network of 220,000 points of sales as well as push jerseys online.
It has already created a brand store on e-commerce platform Amazon.
"This year, the revenue from merchandising will be a couple of crores, but going forward, it will be considerable," Mysore said.
The company also plans to come up with exclusive brand stores, but Mysore has prioritised branding exercise and fan engagement as the team's key marketing objectives.
"We need to expand our fan base first and increase our assets and then go for such plans."
KKR, with an estimated fan base of 15-16 million, is hoping for 'unprecedented growth' in the near future before it opts to venture into outlets.
Asked about KKR's financials, Mysore said, the team broke even in 2012 and wiped out its cumulative losses to become debt free in 2015.