Big retailers are openly talking of plans to harness the power of big data, even reporting those in annual reports as part of a long-term strategy.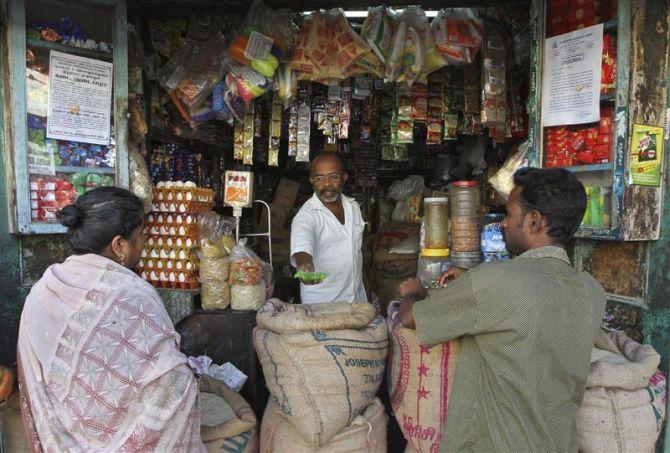 As data becomes increasingly important for enterprises to personalise their products and services for end-consumers, retailers have woken to the immense potential of engaging with kirana (neighbourhood) stores.
Data analytics is moving out of marketing profiles into senior management discussion.
Big retailers are openly talking of plans to harness the power of big data, even reporting those in annual reports as part of a long-term strategy.
Earlier this week, consumer goods giant Hindustan Unilever (HUL) announced a plan to reach 600,000 villages through 10 million stores, ambitiously titled Project Maxima.
Each store will target up to a 100-metre radius with exclusive marketing offers, based on local needs – these would be predicted by use of Artificial Intelligence and a whole range of behavioural data from the retailers.
"HUL works with customers such as large retail chains to generate insight about those who visit their stores, through technology that creates detailed shopper profiles. With respect to demand fulfilment, process and technology interventions have been used for improving service and efficiencies," said the company in its annual report.
With American retailer Walmart's $16-million (Rs 1.1 billion) investment in Flipkart, the company has announced plans to focus on grocery sales via kirana stores and via their UPI payment app, PhonePe.
The plan is to reach up to six million stores through this model.
This omni-channel model recognises that online presence alone will not ensure sales.
The Indian consumer still picks basic essentials on the way home from work and that is where retailers are camping to grab eyeballs.
The organised retail market in India till date has less than 10 per cent share in the overall market, largely occupied by the traditional 'mom-and-pop' stores.
Reliance Retail is said to be developing a model by leveraging telecom wing Jio's large-scale presence, working with these kirana stores and fast-moving consumer goods companies to provide targeted offers.
Reliance Retail has specifically mentioned its geographic expansion strategy into smaller towns, using data analytics, in their 2017-18 annual report.
Jio and Retail have grown to comprise 13 per cent of the group's operating earnings, from a mere two in the previous financial year.
"The primary reason for tapping into the neighbourhood retail store is because traditionally big retailers connect with local distributors, rather than individual stores.
"A distributor caters to a large geographic patch and is not likely to have hyper-local demand knowledge of a smaller community within it. This is something only the kirana store knows," says Sridhar Gundaiah, founder and chief executive of Storeking, a rural retail commerce provider.
One of the early start-ups to enter the hyper-local retail discovery scene, Storeking has been scaling up the model with the aim of reaching at least 50,000 retailers across 150,000 villages.
Gundaiah says there is scope for multiple businesses with such hyper-local strategies to work in parallel.
That aside, there is a basic need to understand that there will be a fundamental change in ticket-size as one goes deeper into rural areas and sales expectations will have to change accordingly.
Data mapping helps a manufacturer to customise inventory, product, packaging and marketing for a region, ensuring higher return on investment.
Analysts say part of this move toward reaching the local grocery shop could also be attributed to the fact that these business are largely dependent on Google Analytics and Facebook for marketing data.
A shift towards an in-house data creation mechanism will allow them to own and control the decision making process to a greater extent.
The data entry point will be either apps, point-of-sale devices or payment platforms.
Since a shopkeeper is not likely to record data on multiple touch-points, each of the big retailers will have to capture as many kirana shops as possible within their programme.
Last year, Kishore Biyani's Future Group, after shutting its online presence, announced a 'Retail 3.0' plan to set up Easy Day stores for catering to neighbourhoods within a two-km radius via a subscription-based model.
Future has also invested in their data analytics arm, C&D Labs, of start-ups which provide data-based consumer profiling services and marketing solutions, among others.
The company is also said to be in talks with online giant Amazon for investment.
Information technology giant Google has been silently investing in hyper-local discovery and delivery models over the past couple of years in India.
Recently, it invested in a delivery and task management start-up called Dunzo, while also introducing an app to help users find services in their locality of Mumbai.
Photograph: Babu/Reuters