Lenders to Kingfisher Airlines will meet the top management of the company on Tuesday in Mumbai to discuss how to address its current financial crunch.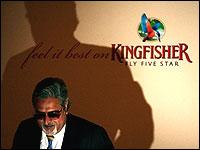 The banks had advised the private carrier to bring in equity to the tune of Rs 400 crore (Rs 4 billion) and provide financial and operational details before the scheduled meeting, said Pratip Chaudhuri, chairman, State Bank of India, on the sidelines of a banking summit today in Kolkata.
The company could bring in the equity from its other lines, such as the liquor business, he said. "We are scheduling a meeting on Tuesday. For it to happen in a meaningful manner, they will have to come up with a lot of information, like what is the condition of their fleet, how much of it is working and the situation of fuel supply," he said.
The airline had committed an equity of Rs 800 crore (Rs 8 billion), of which Rs 400 crore had already been infused.
The 13-bank consortium together has an exposure of about Rs 7,000 crore (Rs 70 billion) to Kingfisher.
"The equity has to come from owners. Particularly, Mallya himself says it will help if another airline comes (in). A private equity investor does not have an expertise of running an airline. So, unless another airline comes in, we do not see value added in the Kingfisher brand and operations," he added.
Also, if some further restructuring of the airlines' debt is required, "it will have to be with endorsement and blessing of RBI (Reserve Bank of India)," said Chaudhuri.
"Before taking a further call on this matter, we first want to see that money (equity of Rs 400 crore) coming in, other creditors like oil companies and airport authority working out a schedule and then we will sit with the company to understand how much more money they require and what are the different sources. All the money need not necessarily come from banks," he said.
The other day, Prime Minister Manmohan Singh had hinted at a bailout for the cash-strapped airline. On board Air India One on his way back from Addu (Maldives), he had said: "We have to find out ways to get Kingfisher out of trouble. But I have not applied my mind to Kingfisher's problems. When I get back, I will talk to Vayalar Ravi (aviation minister)," Singh had said.
The consortium led by State Bank of India also has ICICI Bank, IDBI Bank, Punjab National Bank, Bank of Baroda, Bank of India, UCO Bank, Oriental Bank of Commerce and State Bank of Mysore. Of the Rs 7,000 crore exposure, Rs 1,300 crore (Rs 13 billion) was converted into equity in 2010-11 as part of a debt restructuring exercise by the banks. Another Rs 4,000 crore (Rs 40 billion) of their exposure is in the form of term loans.
State Bank has a total exposure (fund and non-fund) of about Rs 1,500 crore, Chaudhuri said.
On the possibility of converting a portion of debt into equity, Chaudhuri said, "We are not equity investors. We did it earlier as an emergency measure. Banks can come in as lenders, not as promoters."
ICICI Bank's exposure
Meanwhile, ICICI Bank said its exposure in Kingfisher was very little and without overdues.
It said the government was yet to approach banks on the issue of giving extra financial support.
"ICICI's exposure is about Rs 400 crore (Rs 4 billion) and well covered through securities and cash flows outside of the airline as well. The bank is quite comfortable (with the account) and there are no overdues," ICICI chief, Chanda Kochhar, told reporters on the sidelines of the World Economic Forum meeting in Mumbai.
To a query if ICICI would lend more to the cash-strapped airline, she said, "I don't think anyone is talking of anything like that, as of now."