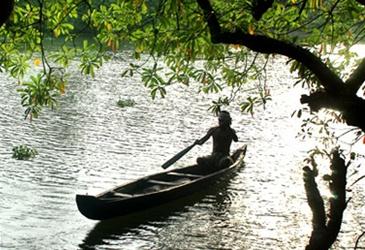 Gearing up for the South West Monsoon, which is not far away, ayurveda and tourism industry in Kerala are all set to woo tourists with rejuvenation packages and never before offers to beat the lean rainy season.
Monsoon is an apt time to undertake rejuvenation therapies. Synchronised massage, 'Pizhichil, Shirodara, Njavrakizy, Nasayam' etc all form part of the Rejuvenation package.
'Pancha Karma' therapies are also undertaken as per the demands of the visitors. The packages range from a day to 14 days costing between Rs 600 to Rs 14,000.
The patients are also given 'Kazhikada Kanji' (a medicated rice porridge) for body rejuvenation, says Dr D R Sadath of Kerala Ayurveda (KA).
During last monsoon season at least 50 foreign tourists, mainly from US, UK and France undertook treatments at Kerala Ayurveda Ltd (KAL) and there could be a 100 per cent increase this year, says P P Vipin, regional manager (marketing) KA.
Some of them wanted to experience rejuvenation treatment during monsoon, while few others had come for treatment for skin related problems and back aches. After undertaking treatments, most got up to 90 per cent relief, he claimed.
Kerala Tourism Development Corporation (KTDC) has announced its monsoon package called "see and experience" rains under which three schemes, ranging from five to eight days, have been designed catering prime locations like Bolgatty in Kochi, Tea County in Munnar, Aaranyanivas in Thekkady, Kumarakom Waterscapes and Kovalam Samudra.
House-boating in the picturesque Alappuzha backwaters is also part of the package. Besides, boarding and lodging at affordable rates, additional linkages like spa treatement and taxi services are also being provided.
The Taj Group of Hotels is offering a third night free offer on rooms for those staying in their property for two nights, according to Thomas Roulin, Director (Sales) Taj Hotels Kerala.
Capitalising on the rains, Wayanad Tourism Organisation (WTO) along with the District Tourism Promotion Council (DTPC) would be organising a three-day 'Splash 2010' from July 9 to showcase typical rural sports of the hilly district-- biking, trekking, commando walking and crab catching, paddy cultivation all in the rain.
This is perhaps the only destination in the state which offers visitors a variety of products to choose from--adventure, plantation, nature, wildlife, rural scape of Kerala and tribals. Effort would also be to promote unknown art which blends with Kerala's folklore and little known artists, WTO Secretary K R Vancheswaran, told PTI.
Wayanad is also known as the 'weekend destination' of the IT crowd in Bangalore, which is hardly five hours journey by road.
However, a huge inflow of tourists would only harm Wayanad, a bio diverse region spread across about 2,132 square km on the lofty western Ghats, he said. Hidden away in the hills of the land are some of the oldest tribes, as yet untouched by civilisation.
The very first 'pre historic engraving in Kerala discovered in the foothills of Edakkal and around Ambukuthimala bear testimony to a pre historic culture dating back to mesolithic age.
The WTO has submitted a master plan to government through District Tourism Promotion Corproation (DTPC), which stresses on the need to build cable cars from Adivaram to Wayanad through Lakaddi, building winches from Karapuzha dam to Edakal caves.
The first phase has already got government clearance. Though KA has a treatment centre in Mumbai, Delhi, Gurgaon and Noida, patients prefer to come to Kerala during monsoon, experience the rain and undertake the treatment, Vipin said. Allopathy doctors from Japan and Korea are undertaking Ayurvedic courses and Ayurvedic beauty at KA, he said.
The Kandamkulathy Ayursoukhyam, an Ayurvedic resort opened two months ago at Thrissur, is offering specialised treatments for various ailments. There are also offering rejuvenation packages ranging from Rs 1250 to Rs 60,000.
There are also detoxification packages and wellness and beauty care and migraine management and stress management packages.
Photograph: Kerala's backwaters
Courtesy: KTDC