Luxury hotels major Jumeirah Group is in talks with a number of potential partners to enter India, according to a media report.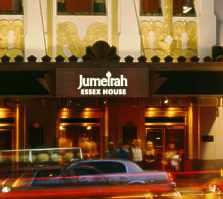 City-based Jumeirah Group is the operator of the iconic Burj Al-Arab hotel. Discussions are taking place with a number of potential partners for developing projects, including developers in India, the report said.

These partners are interested in bringing Jumeirah to Delhi, Mumbai and other key destinations, Jumeirah Group Vice-President (Corporate Communications) Piers Schreiber was quoted as saying by daily 'Arabian Business'.

"India is a sector of strategic importance for Jumeirah Group, both as a source market for guests to our global portfolio of luxury properties and as a target location for our development plans," Schreiber said.

Earlier this month, the UAE and India signed an
agreement to double the flow of tourists between the two countries.
Around 6.29 million tourists from the Gulf visited India last year and India's Tourism Ministry has said that it is looking to increase the share of foreign visitors from 0.6 per cent to one per cent by 2016.
India gets just over six million tourists every year and the government wants to double this number by the year 2015, Tourism Minister Subodh Kant Sahai had said here during his recent visit.
Sahai said outbound tourists from India are four times more than inbound tourists and the government has decided to take steps to improve these numbers. Jumeirah Group, part of government-owned Dubai Holding, has agreements to manage around 50 hotels.
The average occupancy rate for Jumeirah's beach hotels was 84.4 per cent in the first quarter of 2012, while the average occupancy rate for the company's city properties was 85.5 per cent.