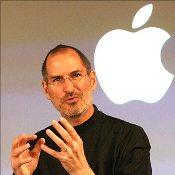 Apple CEO Steve Jobs's authorised biography seems to be a great hit in China as dozens of people were seen lined outside book stores even before they were opened and entire copies being almost sold off within an hour.
Eager fans queued up in front of local bookstores from 6 a.m. on Monday for the Chinese version of the authorised biography of Jobs.

'Steve Jobs', written by Walter Isaacson went on sale at 10:05 am across 30 selected bookstores in 21 cities on the Chinese mainland, including three in Shanghai.

At the Shanghai Book City on Fuzhou Road, 512 copies were sold there within an hour.

The Chinese copy is priced at 68 yuan ($10.68). Cheng Ji, the first in the line at the Shanghai Book City, bought five
copies for her son in college and friends.
Denis Chen, a 24-year-old Apple enthusiast, arrived at 9 am and was surprised to see the long line.

"I already ordered one in the online bookstore for 51 yuan, but I wanted to see the premier. It is definitely rare to see such a long line of readers of different ages queuing up for a book. It shows how influential Jobs was and still is," he told Shanghai Daily.

Chen received his copy from amazon.cn after he got home. The book was pre-sold on online shops as early as August and has been on the best pre-seller list after Jobs died on October 5.

Amazon.cn reported a daily order of 10,000 copies on October 5. Jobs has become household name in China as his Apple products made a big mark all over the country, with many local companies selling imitation version of Apple phone.