The Jawaharlal Nehru Port Trust (JNPT) has received the government's approval to set up a special economic zone (SEZ) at its facility near Mumbai.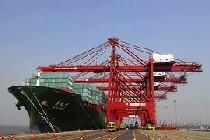 Its chairman, L Radhakrishnan, said, "We have earmarked 3,000 acres for the project. And, the first phase of 750 acres has got the final clearance from the government." JNPT would spend around Rs 4,000 crore (Rs 40 billion) to develop the first phase.

He said JNPT would start the work soon to take advantage of benefits offered by the government.

"We also want to avail facilities available to us for SEZs in terms of taxation, which may not continue beyond March 2012. So, we will be quickly doing some of the developments ourselves, based on the engineering, procurement and construction project," he said.

The trust is yet to find a way to finance the project. He said, "We will be going for sectors that will give us more income."

According to him, this would help JNPT take up dredging and other infrastructure development activities. JNPT is looking to give preference to the processing industry, which will add to container volumes at the port.

The trust has got
the government's approval to set up a fifth terminal at the port. The terminal, which will have a capacity of 8-10 million cubic metre, is likely to cost JNPT Rs 20,000 crore (Rs 20 billion).
JNPT expects by the time the fourth terminal is ready, it will be in a position to invite bids for the fifth terminal. The project will come up in Nhava. It has requested the City and Industrial Development Corporation of Maharashtra for 500 hectares of land for the terminal.
JNPT is also planning to spend around Rs 1,500 crore (Rs15 billion) on dredging.
In the first phase, it plans to dredge 60 million cubic metres with an investment of Rs 1,350 crore (Rs 13.5 billion).
It is looking to finance the first-phase development by issuing Rs 1,500-crore (Rs 15-billion) infrastructure bonds, which are tax-free and earmarked for the port sector.
To finance the second-phase development, it may go for a soft loan from an external aid agency, issue infrastructure bonds if these are available, or an annuity model - where it will ask a private player to do the work and pay it annuity for 10-20 years, depending on the contract.
Though JNPT is yet to get the government nod for the dredging project, it has issued tenders to save time.