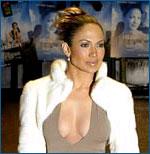 Actress Jennifer Lopez and her Sweetface Fashion Company have announced a deal to launch a new line of lingerie.
The Warnaco Group will have an exclusive licence to produce and market the 'JLO by Jennifer Lopez' collection, which will be launched in Fall 2004.
"As the JLO by Jennifer Lopez brand continues to expand, we are very excited to have partnered with Warnaco for the introduction of lingerie to our product offering," Denise Seegal, President and CEO of Sweetface Fashion Company, was quoted by the media as saying on Wednesday.
The collection is said to have been inspired by Jennifer's 'unique sense of fashion and style.'
"Our goal as a lifestyle brand is to dress our consumers from head-to-toe with products inspired by Jennifer, and lingerie will be an integral part of the JLO look."
"We are delighted to combine Jennifer's broad consumer appeal and Warnaco's expertise in intimates to create an exciting new partnership. Jennifer's femininity and signature style have made her a fashion icon and we are confident that JLO Lingerie will bring some new excitement to intimate apparel," Joe Gromek, president and CEO of Warnaco, said.
The collection will include bras, underwear, sleepwear and loungewear.