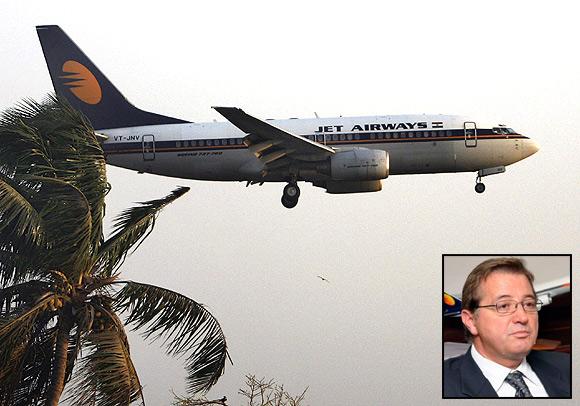 Jet Airways chief executive officer Nikos Kardassis has resigned after a five-year stint with the company, and chief operating officer Capt Hameed Ali is the interim chief executive, the airline said on Friday.
The Naresh Goyal-led airline said in a filing to the BSE that Kardassis resigned with effect from June 5, but it did not give any reason.
This was his second inning with Jet. Ever since the airline clinched a stake sale deal with the Abu Dhabi-based Etihad Airways in the last week of April, whereby it agreed to sell 24 per cent stake for Rs 2,042 crore (Rs 20.42 billion), the industry was abuzz with speculation that Kardassis was on his way out.
Etihad reportedly demanded a change in the management under the deal, including removal of Goyal's wife from the airline's board.
Under the sale agreement, the terms of which are being reworked following SEBI's objections, the Arab carrier will get three board members, including the CEO.
Kardassis returned to Jet on October 15, 2009 as acting CEO after Wolfgang Prock-Schauer quit, and was appointed CEO from May 20, 2010.

Kardassis' first term with Jet started in 1994 and lasted till 1999 and he was instrumental in the restructuring, cost/network management of the airline.
He had also served as senior vice-president, the Americas, for Jet, prior to his appointment as the CEO.
For the quarter ended March, Jet reported deeper losses at Rs 495.53 crore (Rs 4.95 billion) against a net loss of Rs 298.12 crore (Rs 2.98 billion) for the same period year-ago.

Total income from operations declined to Rs 3,922 crore (Rs 39.22 billion) in the March quarter from Rs 4,041.61 crore (Rs 40.41 billion) in the year-ago period.
For the full year, the second largest airline improved its bottomlines by massively narrowing the losses to Rs 485.5 crore (Rs 4.85 billion) against a net loss of Rs 1,236 crore (Rs 12.36 billion) in FY12.