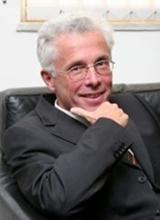 In a major shake-up in Jet Airways, its chief executive officer Wolfgang Prock-Schauer (in picture) has put in his papers and Nikos Kardassis, who heads the airline's US operations, will take over from him as acting CEO from October 15.
Kardassis had been the CEO of Jet Airways from 1994 to 1999 and heads its US operations as a senior vice president, officials of the premier private carrier said at a press conference in Mumbai on Thursday. They said Kardassis brings with him a wealth of experiences in the aviation industry and financial services.
Kardassis was closely involved in the restructuring and cost and network management of Jet Airways and has been working as senior advisor to Jet chairman Naresh Goyal on crucial areas of finance and strategy. He served as the head of operations of the airline in the Americas for the past 18 months.
Prock-Schauer, whose resignation is effective from October 15, will join as the CEO of the low-cost carrier British Midland PLC (bmi) and be based in the UK. Prock-Schauer remained at the helm of affairs in the Indian carrier since June 2003 and has guided the company during the critical period of its international expansion growth.
Media reports suggest that Prock-Schauer, who boarded the airline in 2003, did not want to extend his term with Jet. It was suggested that he was not leaving on a happy note.
Sources claim that Prock-Schauer felt that his authority was being undermined, leading to indifference in his relationship with some senior staffers.