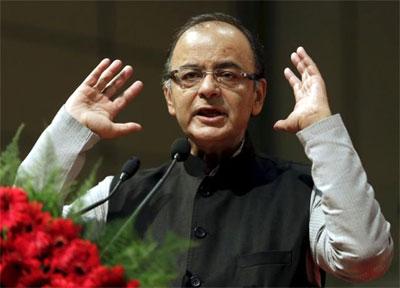 'Our macro economic indicators seem to be fairly stable.'
Making a strong pitch for Chinese investments in India's expanding infrastructure sector, Finance Minister Arun Jaitley on Friday said India will be the only economy in the world which is poised to grow at 7.5 to 8 per cent in an 'unsupportive global environment'.
Addressing 'Invest in India' Business Forum in Beijing, Jaitley said "in the immediate future we will certainly maintain the growth rates which we have".
"Hopefully if there is good monsoon this year, which is expected to be, we have a potential to improve upon those growth rates.
"Even in an unsupportive global environment we probably would be only economy which moves up towards 7.5 per cent and more towards the eight per cent growth rate," he said referring to the IMF downgrading global economic growth.
"In a supportive global environment if things change for the better I do not know what the rate itself would be.
"But I am assuming that the global environment would remain the same," he said laying out a detailed roadmap for massive development of rural and urban infrastructure across India.
"Therefore, India in these roadmaps offers an attractive opportunity," he said at the meeting attended by a large number of top Chinese bankers and wealth fund managers.
"Because this size of the economic activity is now going to carry on and expand in the next few decades," he said inviting Chinese firms to step up investments in India.
Outlining a host of measure initiated by his government, Jaitley said Goods and Services Tax bill which is pending in Rajya Sabha is expected to be passed soon.
"We are now trying to bring direct taxes down and the corporate tax to a highest level of 25 per cent.
"The first significant step in this regard has been taken. Over the two to three years one can expect major reforms in that direction," he said.
"Indirect reform is pending before the Parliament and I hope to see it through very soon. It is called Goods and Services Tax.
"We had a major challenge about resource allocation in India. We completely distanced the government from allocation and allowed the market mechanism now to determine that," he said.
Elaborating on "emphasis areas" of the development in India in the next few years, the Finance Minister said "the first emphasis area is going to be infrastructure creation.
"And for a large number of Chinese investors present here, I think having gone through that experience in China, we are now passing that phase where there is massive infrastructure programme which is on India.
"Part of the infrastructure programme we are building rural roads, national highways," he said.
"Seven hundred thousand villages in India are going to be connected with regular road by 2019," he said.
"This year we are building about 10,000 km of national highway.
"That is the pace at which the changes are being carried on," he said, adding that plans are afoot to build more airports and sea ports.
There is also 'private participation in railways infrastructure'.
Indian railways is a large network, therefore, its modernisation is necessary, he said.
In the power sector, particularly in renewable energy, a very big target has been set besides establishment of smart cities.
"These are the infrastructure programmes which are on the anvil.
"Therefore, the kind of returns they offer are also very large.
"Investors can look at each individual project or they can even look at the national infrastructure investment fund which we have set up, where the government itself remains a minority partner consistently," he said.
"We are also putting in a lot of resources as an emphasis in India's rural sector like rural sanitation, roads, electrification, housing so that we could create development apparatus in those rural areas," he said.
Manufacturing is a great emphasis area, he said.
"Startups are being given utmost priority. There is a big programme of financial inclusion which is going on in India as a part of the social sector reforms," he said.
Jaitley said, "State support, subsidies as they are called, we have rationalised the whole process.
"This again is work in progress.
"This has been one of the most important changes which have taken place in India.
"So that state support reaches those who really deserve it and not those who do not deserve it."
"Therefore, through legislation a unique identity number being given to every Indian. We have managed to put that reform in place.
"We have tried and brought in major amendments to our arbitration law and other legal systems to ensure that resolution of disputes in relation to commercial matters including public private partnership contracts takes place expeditiously," he said.
"We passed the bankruptcy law which makes exits even easier. Over the next one year besides the indirect tax reforms and certain reforms in the company law, certain reforms of regulations in banking and easier resolution of disputes are all legislative changes which are pending," he said.
While explaining India's economic development since his government took over, he said in the last few years significant changes that have been taken place in India.
"Three years ago India was considered relatively among the weaker points as far as Brazil, Russia, India, China, South Africa nations were concerned" with questions whether India will be able keep up with the reforms and its growth potential.
"These were the questions being raised. India succeeded in putting all the questions behind it because the country managed to grow and grow reasonably well and grew in environment where the rest of the world has slowed down," he said.
"When in unsupportive global environment you grow that displays your real strength potential.
"That is what India has been trying to do. Last two years has consistently seen India pass the seven per cent growth rate. 7.6 last year and 7.2 per cent the year before last," he said.
"Our macro economic indicators seem to be fairly stable. But having said that we always believed that compared to the rest of the world, we seem to be doing better," Jaitley said.
"We are regarded as the fastest growing among the major economies of the world. But the same time realising our own potential I always believe that we have a potential in a more friendly environment to do better," he said.
He said in his meeting with Chinese bankers and wealth fund managers yesterday, he told them that India is studying the pattern on which some of the fast moving Asian economies like Japan, Taiwan China and Korea have done well.
"I think we have these living examples to emulate. And for that we have to realise our own potential. India's roadmap therefore is to reach that higher level of growth and to sustain it for reasonably long period of time," he said.
"Obviously following this pattern, we have to get a large number of people under-employed out of agriculture and get them into other sectors of the economy.
"Our services sector has consistently done well. It grows by nine to 10 per cent. It is our manufacturing sector which really needs to grow," he said.
"That is where the potential to attract the spill over of the population of agriculture really lies.
"To achieve that what we flagged as a road map ahead of us, it was essential for us to attract and generate both domestic and foreign investment.
"We are conscious of the fact India's private sector had over stressed itself," he said.
"As the demand increases, the private sector will get back to its own potential, he said.
"We need large amount of FDI and therefore we made India one of the open economies of the world. We carried out various tranches of foreign direct investment reforms in India the last being four days ago," he said.
"We have to make doing business in India easier.
"We gradually moved up the ranking as far as the World Bank is concerned.
"But we realised that is not enough.
"Our rankings have to significantly move up.
"On ease of doing business, out touchstone is that between a decision to establish business in India and actually commence that business, the time gap has to be reduced to the minimum," he said.
"The central government has done a lot of reforms in this regard and we are now trying to persuade our regional governments to improve in this directions," he said.
Image: Finance Minister Arun Jaitley. Photograph: Reuters