Spare the serious entrepreneurs but don't allow the rogues to use the shield of secrecy, says Tamal Bandyopadhyay.
Illustration: Dominic Xavier/Rediff.com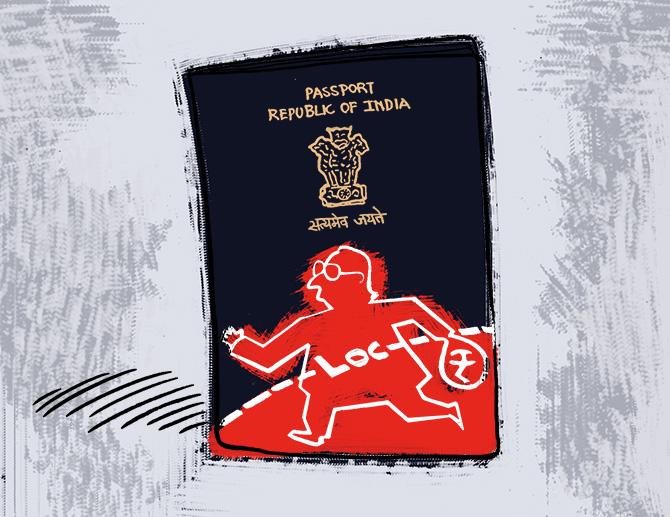 The war against bank defaulters in the world's sixth largest economy has intensified with the Indian government authorising the CEOs of public sector banks to make request for issuance of look-out circulars (LOCs) to the ministry of home affairs against bank defaulters who could leave the country for good.
Used at immigration counters at international airports, an LOC checks whether a travelling person is wanted by the police.
At least four big bank defaulters and fraudsters have left India since March 2016.
In March 2018, in the wake of the $2 billion letters of undertaking fraud that hit Punjab National Bank (PNB), passport details of borrowers taking loans of at least Rs 500 million was made mandatory to prevent fraudsters from fleeing the country.
Just ahead of this, the Cabinet also approved the Fugitive Economic Offenders Bill, empowering the banks to impound and sell assets of absconding bank defaulters and fraudsters to recover dues.
It applies to all defaulters who have an outstanding of at least Rs 1 billion and have fled India.
We need to wait and watch whether any borrower challenges the new LOC rule in a court of law but for sure it demonstrates the government's determination to clean up the banking system, laden with over Rs 10 trillion bad loans, and bring in a fundamental change in the creditor-debtor relationship.
The insolvency law has already redefined the relationship; these are other props to cement that in an evolving scenario.
The Delhi high court in 2010 had said recourse to an LOC could be taken "where the accused was deliberately evading arrest or (was) not appearing in the trial court despite non-bailable warrants and other coercive measures, and there was likelihood of the accused leaving the country to evade trial or arrest."
This was, however, in the context of an investigating agency seeking to issue such a circular.
In case, there is no cognisable offence under the Indian Penal Code, the person against whom an LOC is issued can't be detained, arrested or prevented from leaving the country, the court had said.
This means, the CEO of a bank needs to establish that bank default is a criminal offence for seeking issuance of an LOC.
Traditionally, banks in India have been following a name-and-shame policy to force borrowers pay their dues.
Back in the 1990s, Citibank used to send eunuchs to the homes of loan defaulters to sing and dance and publicly embarrass them.
There have been instances of banks putting up posters with photographs of the borrowers, women employees gate-crashing Diwali parties of defaulters, and even sending postcards to defaulting customers.
In 2013, State Bank of India, the nation's largest lender, took the lead in publishing in newspapers photographs and names and addresses of wilful defaulters as well the guarantors of such defaulters even as other banks started prominently displaying defaulters' photographs at branches in the locality of such borrowers.
A popular Punjab National Bank ad on FM radio a couple of years ago used to talk about offering flowers and get-well messages to bank defaulters.
But such tricks work for loans given to individuals as well as small and medium enterprises; the high profile corporate borrowers are too thick-skinned to be shamed if their names are made public.
Incidentally, the Central Information Commission recently issued a show cause notice to the Reserve Bank of India governor for "dishonouring" a Supreme Court judgment and CIC directive on disclosure of the list of wilful defaulters.
It has also asked the Prime Minister's Office to disclose former RBI Governor Raghuram Rajan's letter on bad loans.
In March 2016, in a sealed envelope, the RBI submitted a list of big loan defaulters in the Supreme Court and said disclosing the names in public would hamper the companies' health if they are in genuine difficulty and "may accentuate the failure of business rather than nursing it back to health."
Rajan was RBI governor then.
The origin of this case was a public interest litigation (PIL) in 2003, raising issues of loans given to a few companies by State-owned Housing and Urban Development Corp.
In mid-1990s, when Indian banks were not technologically equipped and rogue borrowers were taking advantage of that by not paying up to one bank and raising fresh loans from another, RBI started circulating the list of defaulters among banks in a floppy disk.
Now, there are credit bureaus for collation of data of all borrowers in the financial system and all lenders have access to the data.
Hence, a defaulter cannot raise fresh money from another bank.
When the lenders are aware of the whereabouts of their borrowers, why do the public need to know them?
What purpose does it serve?
Well, since the public sector banks -- which have little less than 70 per cent market share of banking assets -- are being kept alive by continuously pumping in tax payers' money, they have the right to know.
But the regulator has its reservations because the disclosure violates the contract between a borrower and lender.
The Banking Regulation Act does not say anything about this but by convention, the bankers do not make public the identity of their borrowers, respecting the contract.
This is a global practice.
The identity is made public only after a bank takes action against a borrower.
The situation is complex as the concept of "wilful defaulters" is unique to India.
Essentially, it refers to those defaulters who have the ability to pay back the bank's money but are not paying.
Who will decide on that?
Only a forensic audit can determine this.
Once this is established, when a borrower violates a contract by not paying to a bank, does the bank need to honour the sanctity of the contract?
Of course, there will be instances where the borrowers are not able to pay because of external circumstances that have impacted their business.
It's time to shed reservations about making public the names of defaulters with caution and discretion.
Spare the serious entrepreneurs but don't allow the rogues to use the shield of secrecy.
Tamal Bandyopadhyay is a consulting editor of Business Standard, is an author and senior advisor, Jana Small Finance Bank.