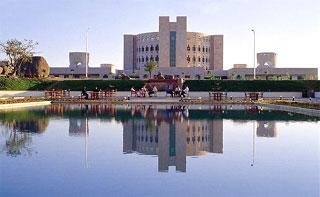 The Indian School of Business is all set to invite two alumni on its board and they will have a tenure of two years.
The move by the leading business school, which has campuses in Hyderabad and Mohali, is aimed at strengthening engagement with its vast number of alumni.
"Recently, the (ISB) board passed a resolution to invite two alumni to the board ... So that we get the alumni perspective also. We will invite two people (alumni) and each one of them will be on the board for two years," ISB Dean Ajit Rangnekar told PTI.
The proposal was approved during the board meeting held earlier this month.
The school is in touch with about 80 per cent of alumni and there are also short term learning programmes for them.
Noting that a lot can be done along with its alumni, Rangnekar said some of them are already extending help.
"Already they are beginning to give money on their own thinking that we have got a lot of value, we appreciate what the school is doing and what it wants to do. They give money for something to further develop the school.
"We are confident that they will do more over the years," he said.
ISB's alumni network has around 5,000 members spread across 32 countries. Out of them, 90 per cent are in the age group of 25-36 years while 83 per cent are currently based in India, as per its website.
Courses offered by ISB include post graduate programme as well as fellow programme in management and management programme for family business.
Among others, ISB is working to enhance entrepreneurial capabilities of engineering students and efforts have started in erstwhile Andhra Pradesh and Telangana.
The school is also working with the Reserve Bank of India (RBI) on various issues such as assessing the impact of food subsidies.
To a query on whether ISB plans to expand overseas, Rangnekar replied in the negative.
"We think there is enough potential for us to expand in Mohali itself. That is going to be our immediate focus in th next few years," he said.