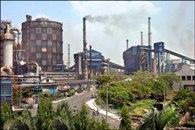 Tata Steel's numbers came in well below market expectations. Like most metal-producing companies, Tata Steel, too, was hit by falling demand in Europe, lower realisations and raging costs.
Despite this, analysts were not expecting the company to post a loss of Rs 603 crore, compared to a net profit of Rs 360 crore in the second quarter.
The company clocked lower profits in India and wrote down inventory worth Rs 740 crore ($143 million) at Tata Steel Europe, which resulted in the net loss.
The company's standalone net profit (excluding Corus) fell 14 per cent sequentially to Rs 1,420 crore. Earnings before interest, taxes, depreciation, and amortisation (Ebitda)/tonne fell $35 to $290 on sequential basis.

Though realisations improved marginally, high costs ate into profits. According to Bank of America Merrill Lynch, domestic steel prices are up three-four per cent year-to-date, mainly led by restocking. But the price momentum appears to be fading, due to weak real demand and rising supplies.
The company's European operations disappointed the market far more than India. Tata Steel Europe reported an Ebitda loss of $147 million, compared to a second-quarter loss of $103 million.

However, a large part of this was due to the Rs 740-crore inventory write-down. This  means the management has decided the inventory isn't worth the value at which it is stated in the balance sheet. This also means  it sees a decline in realisable value of the inventory. The company saw a sequential decline of four per cent in volumes at 3.3 mt, as a result of the weak demand.
While a segment of the market believes the worst is over and demand and realisations will improve, others believe weakness will persist for more time, as supply is expected to increase and demand may remain sluggish. Marwadi Shares & Finance Ltd (MSFL) believes valuations look attractive and Tata Steel is a rerating candidate.

"The four-year European overhang is set to end with the commissioning of the 2.9-mtpa expansion in Jamshedpur," says MSFL. The restructuring and cost-cutting measures in Europe may also help improve margins, believe analysts.

For Rediff Realtime News on Tata Steel, click here...