Considering the disvestment mop-up target of Rs 30,000 crore (Rs 300 billion) for financial year 2012-13, the government is thinking of optimising the collection from stake sales in central public sector enterprises (CPSEs).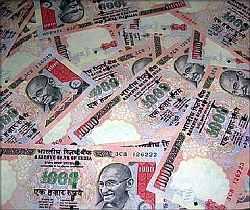 The strategy includes focusing on initial public offerings (IPOs), rather than follow-on public offerings (FPOs), in the coming months, if the market situation doesn't improve. It also plans to auction shares of companies whose stocks were trading at traditional levels despite the sluggish market situation, providing the possibility of maximising revenue collection.

An official of the department of disinvestment told Business Standard the buyback of shares by CPSEs and allowing cash-rich companies to buy equities of other public sector companies were the other options, as and when companies brought their plans to the department.

"The circular for allowing buybacks has already been issued, and another for providing the option of taking equities of other companies to CPSEs is expected soon," the official said. He added National Buildings Construction Corporation's IPO last month had indicated despite the market condition, there was a good appetite for IPOs.

He said retail investor participation had been encouraging, with subscriptions at about 3.39 times the offers from this segment. The department would try to push the IPOs in the pipeline till the market situation improves.

Currently, IPOs of Rashtriya Ispat Nigam Limited (RINL) and Hindustan Aeronautics Limited are being considered. The government has approved the disinvestment of 10 per cent of its stake in RINL through an IPO.

On auctions, the official hinted OIL India would be preferred over Bharat Heavy Electricals Limited. "Basically, it is the maximisation of revenue consideration. If some stock was trading at a high level and currently, it is trading at around half of that, then, obviously, you can't bring it to that level. However, if some scrip was trading at Rs 100 and it is now at Rs 95, an auction may be able to get Rs 100 or more," he said.

On buybacks, the finance ministry would discourage Coal India-like companies whose stock price was already trading at levels higher than the IPO price. However, the company is being seen as a good candidate for buying equities of other companies. The official said with these options, the government expected the stake sale process would pick up after May. "The next disinvestment is expected to happen only after the passage of the Budget in Parliament," he said.