IOT Infrastructure & Energy Services Ltd, a joint venture of Indian Oil which is raising Rs 400 crore (Rs 4 billion) from private equity (PE) players for expansion, has decided to ignore a bid by New Silk Route (NSR), according to three independent sources in the know.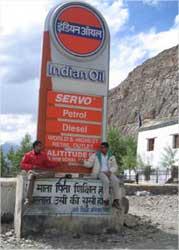 NSR is a leading Asia-focused growth capital PE firm managing .4 billion. Its chairman and founding general partner is Rajat Gupta.

Instead, Olympus Capital and UTI Infrastructure Fund have been shortlisted and are set to pick up around 12 per cent equity in IOT, a specialist in building operating terminals and storage facilities for petroleum products. It is an equal venture between Indian Oil and Oiltanking of Germany.

Sources said the company wanted to avoid any controversy while roping in a financial investor. Gupta, a former boss of McKinsey and an ex-director of Goldman Sachs, is facing civil fraud charges from the Securities & Exchange Commission for allegedly leaking sensitive information to Raj Rajaratnam, the hedge fund billionaire convicted of using insider information to make money. Gupta has denied any wrongdoing.

Even though Gupta has distanced himself from NSR's day-to-day activities by voluntarily taking leave of absence, the IOT management decided to play it safe.

NSR, according to officials tracking the development, was one of most aggressive suitors and was even willing to increase its bid. But the company expressed discomfort during the pre-bid stage itself.

"It is a joint sector company. IOC, a leading PSU, is its key stakeholder. The leadership team also has IOC officials. The decision was taken to avoid unnecessary attention." said an official, requesting anonymity, as he is not authorised to speak to the media.

"In any case, we are taking a bold step as getting PE investment is a relatively new thing for a company like ours. So, UTI's fund has been shortlisted, as it's a tried and tested name in India," he said.

IOT's management could not be contacted despite repeated attempts. IOC Chairman RS Butola did not comment saying he was not on IOT's board. Jayanta Bhuyan, the managing director, could not be reached on his mobile.

However Ram Prasad, chairman, Mape Advisory, IOT's advisor in the transaction, said the company was looking at various options, including PE.

"We are hoping to finalise one of these options shortly after taking board and shareholder approvals. There is a lot of interest given the pedigree of the company and its track record," he said.

NSR said as a matter of policy it did not want to comment on a specific transaction. But sources close to it said even though IOT had some queries about NSR's background, things were clarified and the matter settled.

They said NSR had expressed interest in the deal but stayed away for a number of reasons, including a few commercial terms. They denied that Gupta's association was the reason NSR was ignored.

NSR, however, was not the only suitor for IOT. The company's plans for its diverse portfolio of services for the oil and gas industry got many PE players such as TA Associates, Olympus Capital and UTI Infrastructure Fund interested.

The plans required capital. Which is why, in September last year, the company appointed Enam and SBI Capital and filed a draft prospectus for an initial public offer. The issue was deterred due to a choppy capital market. After this, the idea of roping in PEs was mooted.

Sources said IOT had been valued around Rs 2,600 crore (Rs 26 billion). Olympus and UTI Infrastructure Fund would co-invest. They would together hold 12-13 per cent fresh equity in the expanded pool. The existing partners will hold close to 44 per cent each.

The fund-raising proposal was cleared at a board meeting last week.

The capital raised will be mainly deployed to part-finance the 1,410,435-kilolitre petroleum product facility at IOC's 15-million-metric-tonnes per annum Paradip refinery and build the 220,000-kilolitre common user terminal in Raipur, Chhattisgarh.