In recent months, three companies - PC Jeweller, Vakrangee and Kwality - decided to withdraw their share buyback proposals
Illustration: Uttam Ghosh/Rediff.com
The withdrawal of share buyback programmes by companies is posing a new headache for the Securities and Exchange Board of India (Sebi) and investors.
Shares of troubled PC Jeweller lost a quarter of their value after the jewellery retailer said it was unable to go ahead with its proposed Rs 420-crore share repurchase programme.
In May 2018, the company had announced its buyback plan to stem a share slide in its stock price.
In recent months, two other companies, Vakrangee and Kwality, had resorted to similar moves as possible attempt to put an end to the drop in their stock prices, triggered by allegations of impropriety against the promoters.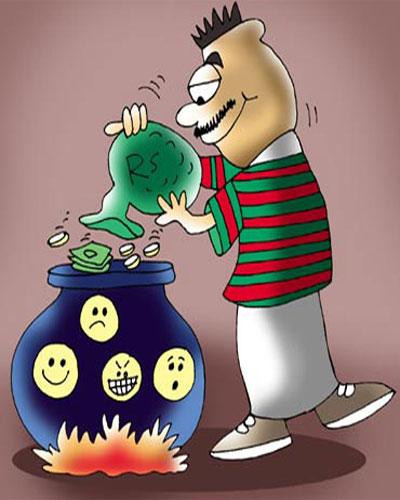 Weeks after floating the proposal, both Vakrangee and Kwality said they would not pursue the buybacks.
The move disappointed investors, who saw the buyback proposals as a sign of stability.
"In the past, companies with dubious credentials used the buyback mechanism to manage stock prices. Sebi had tried to plug the loophole by enacting changes to buyback regulations. However, some companies managed to circumvent the rules by merely proposing buybacks," a securities law expert said on the condition of anonymity.
"Buyback news lifts stock prices of companies. Operators use this opportunity to dump shares and later companies cancel their buyback plans," according to a broker.
Market players said Sebi had sufficient tools to act against companies who were misleading investors.
"There are sufficient regulatory measures in place to stop companies from making misleading announcements about buybacks.
"Sebi can initiate enforcement action in such cases since misleading investors intentionally amounts to fraudulent practice.
"A lot of companies are using open-ended language in their announcements to mislead shareholders," according to Sandeep Parekh, founder, Finsec Law Advisors.
PC Jeweller cited failure to obtain the requisite no-objection certificate from bankers as the reason for withdrawing the buyback proposal.
Its stock tanked 26 per cent to end at Rs 89 on the BSE on Monday. Shares of PC Jeweller are down 85 per cent from the peak of Rs 601 in January.
Last month, Vakrangee had said it would not proceed with its proposed Rs 10-billion buyback and instead use the money for business operations. Similarly, Kwality had said after "intense deliberations" its board had decided to defer the buyback.