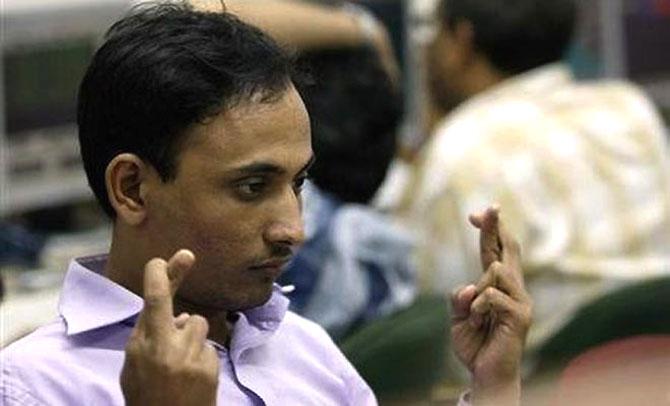 Dragged down by a massive fall in the stock market, total investor wealth slumped by nearly Rs 3 lakh crore on Tuesday as shares of over 2,200 listed firms ended in the red.
The BSE benchmark index Sensex closed at 26,987.46, down 854.86 points or 3.07 per cent. The NSE Nifty also tanked 251 points, or 3 per cent, on massive selling across sectors.
In-line with the weak broader market, the total investor wealth plunged by Rs 2.9 lakh crore to Rs 96.74 lakh crore. Total investor wealth, or market capitalisation, is the aggregate value of all listed firms.
After crude oil price fell below $50 per barrel, the first time in almost 5 years, markets were spooked by fears of an disorderly exit of Greece from the Euro zone.
"Greece's financial troubles continued throughout the day. Greece has been plunged in a government-debt crisis and has sought the help of its Euro-zone partners to bail the country out of debt," said brokerage firm RKSV's co-founder Raghu Kumar.
Following the market crash, all but HUL among the 30 Sensex components closed the day with losses. ONGC was the worst hit with a fall of almost 6 per cent, followed by Sesa Sterlite Ltd, Tata Steel, HDFC, Reliance Industries Ltd and BHEL.
Further, all the 12 BSE sectoral indices also suffered losses in the range of 1-4 per cent. As many as 2,253 stocks declined, while 644 advanced and 58 remained unchanged in the market.
Globally, crude slumped to $49.95 a barrel, a level not seen since May 2009. Brent also fell by $ 3.31 to 53.50 per barrel.
However, some experts said a falling crude price continues to bode well for the Indian economy.
"Falling crude prices is a positive development for India as it would have a favorable impact on the country's current account deficit and would curb fuel price inflation in the domestic economy," said Angel Broking, MD - Institution, Lalit Thakkar.