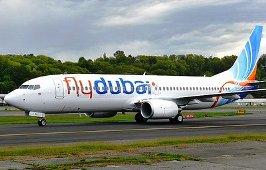 Flydubai, based in the city-state, is the latest to enter the Mumbai-Dubai route, the busiest international one, with 15 daily flights between the two.
The no-frills carrier was launched in 2009. It began India operations a year later.
Chief Executive Ghaith Al Ghaith (pictured adjacent) and Commercial Operations Senior Vice-President Sudhir Sreedharan spoke to Aneesh Phadnis on competition and India plans. Excerpts:
Emirates flies 185 weekly flights between Dubai and India. flydubai has 25. How will you compete?

Ghaith: We should not look at Emirates. We feel there is tremendous potential in the Indian market. The market is underserved.
Do you think others do not want to add flights between India and Dubai?
About two per cent of our capacity is deployed on India routes and we can add more if additional traffic rights are granted to us. We will be adding four services to India by March 2015, using the India-Dubai air-service pact.

What distinguishes flydubai from Indian low-cost carriers?

Ghaith: We have a young and modern fleet and have a product that suits different markets and customers. Our aircraft have 12 business-class seats. We offer in-flight entertainment in economy and business classes but passengers must pay to watch movies in the former. Customers pay for the service they want.

Sreedharan: Our biggest unique selling point is our network. We fly to 86 destinations; many were underserved from Dubai. We can tap all traffic segments whether leisure or business. We recently launched service to Kigali in Rwanda and among the enquiries from agents were about our new flights to India.
Ghaith Al Ghaith
Gulf airlines are hub carriers and over half the passengers flown from India travel on to Europe, the US or Africa. What percentage of flydubai passengers travel beyond Dubai?

Ghaith: About 70 per cent of our passengers are point-to-point. We have this opportunity to connect Indian passengers to other parts of the world but we do not have enough seats from India. We need more capacity.

flydubai does not have a network of agents in India. Will this impact sales?

Sreedharan: We have high seat factor on all our Indian flights and are working with all distribution channels (online and agents). We would not get high occupancy if we did not have a sales network.

It seems flydubai is in the shadow of Emirates, a bigger brand with global presence.

Ghaith: I have worked in Emirates for 22 years and am proud of that airline. There will be no other airline like Emirates that achieved so much in a limited span. We (flydubai) are small but we have lots of ambition and the Dubai government trusts us.