Union Railway Minister Suresh Prabhu perhaps has the most challenging task at hand in the government - of efficiently running a mammoth system and creating additional capacity, with little financial muscle.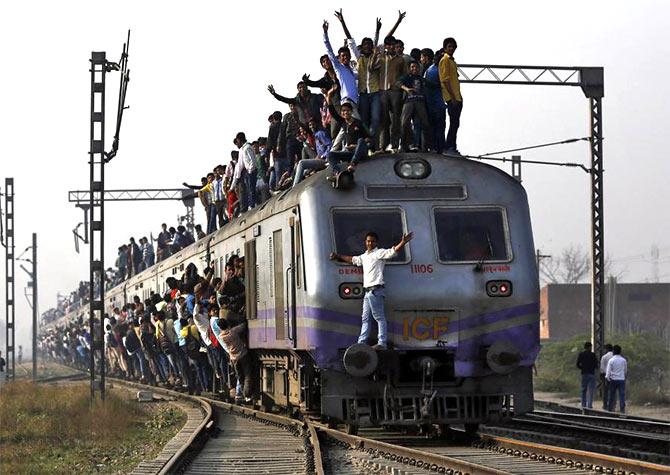 Image: Making the railways better is a different type of a challenge. Photograph: Reuters
In an interaction with Business Standard's journalists, Prabhu, a chartered account by training, explains his idea of bringing changes through delegation and restructuring with little disruption.
Edited excerpts:
What are your first thoughts on the financial health and operational revamp of Indian Railways?
Making the railways better is a different type of a challenge. If a ministry is independent, it does not get much budgetary support.

We compare our railways with other global networks like those in Japan, China, South Korea and Europe.

It is an unfair comparison; what they have become today is because of what they did over the past 30 years. We need a vision for the railways.
Infrastructure should be created where it serves a purpose. For example, what is the use of creating lines from border of Tibet to Ladakh?

So, we decided to work on doubling and tripling lines. We must put the money where it is needed.
We have got Rs 1.5 lakh crore from LIC at a very low rate. We are creating an investor profile that matches our needs.

We have taken a five-year perspective. Also, we have brought down the time required from the budgeting stage to the detailed project report (DPR) to six months.

We have delegated all powers to strengthen the arms of general managers. We have also opted for an engineering, procurement, and construction (EPC) model for project development.

Another important aspect is technology. I tied up with the Japanese for comprehensive coverage of technology.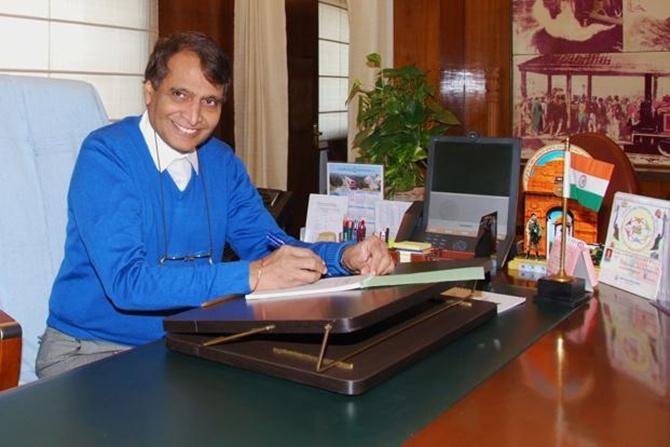 What are the railways' main challenges on the financial front?
An extra burden of Rs 32,000 crore (Rs 320 billion) is coming our way because of the recommendations of the seventh pay commission. It is a challenge.

Also, we are not getting enough cargo. Our target was 1,185 million tonnes for this financial year, but not enough is available.

Power plants are not demanding more coal, import and export are going down, and even steel movement is low. We would handle this challenge by doing a variety of things.

We have reduced the energy cost by about Rs 4,000 crore (Rs 40 billion). The Railways is the single-largest buyer of electricity and pays a high price.

We decided to change this, as this is a buyers' market. We opted for open bidding to purchase electricity and got half the price.
Is this why (problems on freight) your operating ratio is close to 100 per cent now?
The ratio is never calculated midway in a year.
How did you manage to clinch the bullet train deal with the Japanese?
The loan from the Japanese for the bullet train project is coming with a 50-year repayment window, and a 0.1 per cent interest rate.
We have to create this awareness that you cannot reach that level till you invest in infrastructure.
For investing in infra, it is impossible to find money from only one source. We should always ask for an alternative scenario.
Around 85 per cent of this (bullet trains) would be made in India. That will create an ecosystem. So, the spin-off benefit will be huge.
We proposed to Japan that we want a comprehensive partnership; they have agreed. They will assist in research & development, too.
The Research Design and Standards Organisation and Korean research will collaborate.
What is the strategy for curtailing railways energy bill?
We have a comprehensive strategy. We are doing energy audits of all our units to bring down cost of energy.
We are doing energy conservation - LED lights, solar power, etc. And, we are doing direct purchase of electricity.
The power plant in Nabinagar is also coming in handy. The idea is to lower costs through these measures.
We are also moving towards more and more electrification and cutting down our electricity cost.
We are getting manpower audit done, for the first time. I had mentioned four key things in my budget speech on February 26.
One was delegation of powers. I did it on my first day in office.
Second was accounting reform. Third, we are a creating a finance cell headed by (former ICICI Bank MD & CEO) K V Kamath.
The fourth main proposal was for creating a regulator. The Bibek Debroy committee gave its report three months later.
But most of its recommendations are already in my budget speech and are under implementation.
There is a view that the railway board requires restructuring. Is that happening?
Which ministry does not have a structure similar to the railway board? Also, we have already delegated powers to the zones.
Their autonomy is similar to a corporate structure now. This is the time to do reform-related things.
Disrupting everything may not be the solution. We have given more powers to GMs and divisional railway managers than ever before.
We are even preparing key result areas for judging their performance.
What has been the progress on the grand plan to redevelop 400 stations?
We have already put up the basic proposal on our website. A completely transparent procedure is being followed. It is not a Swiss challenge.
The bids will not be unsolicited. The bidders will give designs, which will be evaluated by technical experts of the financial committee.
The original proponent will have the right of first refusal. The exploitation of stations will be for commercial purposes only. The stations will be managed by railways.
This is the largest-ever station development programme. A number of revenue models can be submitted. Two things add value to a station - footfall and eyeball.
We have to look for stations with high footfall for redevelopment. The Indian Railways has to find out more and more avenues for earning from non-rail sources.
This is important for railways to be viable. No country has developed so many stations at the same time.
How will you make freight more competitive vis-a-vis road?
The Railways has lost out on freight versus road because investment has been done in roads, right from the time of independence.
If one wants to move cargo and get end-to-end solutions, one will naturally go by road.
So, if I want to regain the lost share, I must first invest in infrastructure, at least as much as the level of investment going into roads.
In the immediate term, we expect a lot of change with the commissioning of the Dedicated Freight Corridors in three-and-a-half years.
The Railways is increasingly using Twitter as an administrative tool. What has changed?
Any organisation like the Railways has to be customer-friendly. I am trying to integrate all modes of communication - from the complaint book to emails, calls, Twitter, Facebook, etc.
I am trying to ensure that we respond to complaints. Also, each GM and DRM has been given a Twitter handle.
Is there a plan to re-engage with the e-commerce world and revamp IRCTC, which is a large e-commerce portal?
IRCTC is an e-commerce company; it charges for every transaction. We must monetise this potential and the huge customer base.
This is one way of increasing the non-rail revenue. So, this is a huge responsibility that we have taken; we have asked SBI Caps to look at it.
We must monetise all our assets, whether through station redevelopment or companies like IRCTC.
In fact, the same platform can be used for doing other commercial transactions. We are preparing a business plan to monetise IRCTC assets.
You have talked about major reforms but are the railway unions on board?
We are in constant discussions with the unions. They are also part of Kayakalp, the committee set up to look at innovation.