A K Prabhakar, senior vice-president (equity research), Anand Rathi, has been an active investor through the season, braving the market conditions. Through the last three weeks, his portfolio has taken a negative turn. In an interview with Jinsy Mathew, he shares his outlook on markets and his thoughts on the stocks he owns. Excerpts: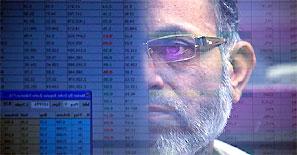 What has been your winning strategy so far this season?
The winning strategy has been early investments in Tata Coffee, Bayer Corp, Jammu & Kashmir Bank, etc. But now, things have changed---even quality stocks are not performing in the current market.

YES Bank has been a huge drag on your portfolio. Are you looking to hive off some holdings?
I am not worried about the recent fall in the YES Bank counter, which has corrected 23 per cent this month. We have a target of Rs 700 in the next 12months. I would have accumulated the stock, had I not hit the limit one can allocate in a single stock.

Financial services accounts for a major chunk of your portfolio. In the current market environment, these stocks have taken a beating. Would you book losses or stay put?
I will stay put. There are a few banks and mid-cap financial companies such as LIC Housing Finance, which faced massive value erosion. These, I think, would be the first to recover when the tide turns around.

If you were to rejig your portfolio, what would be the top buy/sell?
Currently, I have no holding in information technology (IT). But I strongly believe IT is one space that would see an uptrend. Therefore, I would add names such as Infosys and TCS to my portfolio.

What is your outlook on the market for the rest of the year?
I believe we are a few months away from an all-time high. Currently, I am fully invested, as I feel there is a good chance the Nifty would cross its all-time high sometime in one-two months. Then, mid-cap stocks would start outperforming the Sensex. Therefore, I am heavily invested in the mid-cap space.

What are your expectations from the Reserve Bank of India (RBI)'s coming policy review?
Best said, the RBI policy would be a non-event, as whatever had to be done has already been said and done.