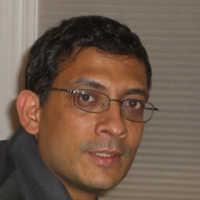 India's tax system favours the rich and the middle class, says an economics professor at MIT.

Abhijit Banerjee, the Ford Foundation International Professor of Economics at the Massachusetts Institute of Technology, says flaws in the system encourage people to be corrupt.

Banerjee, who is finishing his fourth book and works on development economics and economic theory, says by focusing on growth versus poverty we have missed the main point, in an interview to Faisal Kidwai.

India has tried many programmes to reduce poverty, but we continue to have acute poverty. Is there something wrong with how we implement these programmes?

Although there has been a significant reduction in poverty, but India hasn't done a perfect job when it comes to poverty reduction.

We have let the income inequality grow a lot. But even when we have launched programmes to reduce poverty, we have done it very badly.

For instance, National Rural Employment Guarantee Act is a very imperfect poverty reduction programme. If we had implemented that programme as well as we could have, then that would have helped a lot in reducing poverty.

By thinking about growth versus poverty we have missed the main point, which is the huge amount of wastage of resources.

These resources don't actually go to the poor but are wasted. It is important to mobilise resources and use resources well, design programmes well, to put an emphasis on performance, rather than announcing a programme and forgetting about it.

That is the real problem in India right now.

Why aren't we able to implement these programmes well?

There isn't enough attention paid to what it would to make the programmes work plus we don't create enough specialised bureaucracy with lots of skills and right incentives.

We just assume that the small bureaucracy would be able to run everything. The government expands but bureaucracy doesn't.

It doesn't seem like they are doing very much to make these programmes well implemented. You have to invest a lot in evaluation of the programme, making sure that the programmes are designed well, the programmes should be practicable and not just something written on a piece of paper.

What are your thoughts on India's taxation system?

There is not much effort in taxing the rich. With the economy not expected to post good growth numbers this year, there will not be a push for more taxation, but even when the economy is growing there isn't much effort to tax the rich.

We reduce the tax net, we let off the middle class and we don't really tax the very rich. In the end you need a tax system that works.

There are some who claim that corruption is a small part of the GDP and its impact has been blown out of proportion.

Well, yes, it's a small part of the GDP, but it's a huge part of the anti-poverty programmes, such as the public distribution system.

If you want to reduce poverty, you have to do something about the effectiveness of those programmes. There are many kinds of corruption but we use one word for them.

There is a lot of confusion about how to fight corruption and what are the priorities. Jan Lokpal Bill, which Anna Hazare is demanding, will not fix, for instance, PDS. There are unrealistic expectations.

The whole country's focus seems to be on punishment, but punishing people cannot be the primary solution to the problem of incentives. The aim should be how to create systems that work well and how to implement the programmes.

You are saying that there many kinds of corruption. Could you elaborate on that?

When a minister is colluding with the telecom ministry is different from the guy who lies about rice at the ration shop. We can't solve both the problems using the same instruments.

Somehow there is thinking that there is a magic wand and that the Lokpal Bill will make all corruption go away. In fact, these are different problems; they come from different flaws in the design system.

We don't think sufficiently about why the system generates the incentives to be corrupt. Take PDS, for instance. If the guy down at the chain works honestly then he makes so little money that he is in some ways forced to bend the rules.

Do our policies favour the rich and middle class?

Of course. Not just urban middle class but also towards rich farmers, who pay no taxes, get free water, subsidised electricity and fertilisers. The policies are skewered towards them relative to the poor in the rural areas, for example.