The Indian scientific and research community is keenly watching the battle between arch-rivals and global chipmakers, Intel and AMD, as they launch their high-end server processors which are the lifeblood of high-performance computers.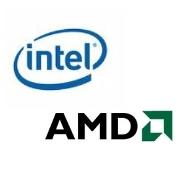 Intel, for instance, recently launched four- to eight-core Xeon 7500 "Nehalem EX" processors, and AMD unveiled its eight- to 12-core Opteron 6000 "Magny-Cours" chips.
AMD, with its Opteron 6000 "Magny-Cours" processors, is targetting a more mainstream computing space by delivering workload-specific performance, power efficiency, and overall value while delivering more cores and more memory for less money. The company claims its new server platform features the world's first 8- and 12-core x86 processor for the high-volume 2P and value 4P server market.
Intel, on its part, says the new Xeon 7500 processor has made the biggest performance leap in the Intel Xeon processor family, with an average improvement of three times across a range of benchmarks.
High performance computers are used to solve advanced computation problems and are generally used in high-tech industries, by research and development institutes, and manufacturing sector.
The number of organisations with performance computing facility or supercomputers in India has risen from 11 in November 2008 to 15 in December 2009 with two of them featuring in the Top 500 of the latest supercomputers, according to the latest report by the Supercomputer Education and Research Centre of the Indian Institute of Science.
Bangalore ranks first with five supercomputers, followed by three each in Pune and Chennai. Besides, Delhi has two supercomputers whereas Mumbai and Hyderabad had one each, said SERC report.
"We are seeing some manufacturing companies who do a very high-end simulation and factory simulation harnessing the power of supercomputing by installing multiprocessor server clusters. ONGC uses supercomputing systems to gather and analyse huge data gathered during the process of oil exploration," says S Sadagopan, director of IIIT-Bangalore.
The HPC segment, according to Naveen Mishra of Gartner, will see a double-digit growth over the next two years, fuelled by demand from verticals like media, manufacturing, and oil & gas.
"It will be interesting to see how Intel and AMD gear up to the growing HPC requirements in the Indian market. It certainly is good news for firms who want to adopt HPC as this gives them better options. Besides the market also gets competitive with better price and features availability," says Mishra, senior research analyst, Gartner.
Early adopters of supercomputing in India are research organisations like Tata Sons-owned Computational Research Laboratories in Pune with server clusters having processors from the Intel Xeon family of processors. CRL has also been named as the fourth fastest one in the world.
Intel, till date, has been by far the market leader in the server processor segment in India, according to analysts. Even among the 15 supercomputers that India boosts of, a majority are run on Intel processors. AMD, say analysts, has a tough job on hand.