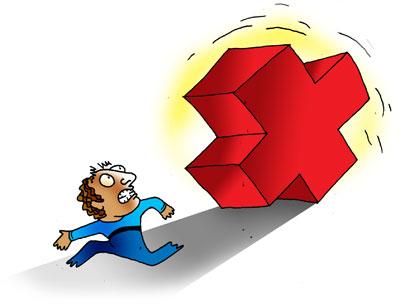 Most customers don't understand this concept and are unable to benefit from it, says Mahavir Chopra.
Illustration: Dominic Xavier/Rediff.com
The Insurance Regulatory and Development Authority of India introduced health insurance portability guidelines in 2011 to enable customers to shift seamlessly between insurance companies.
Though it is more than more than five years since the guidelines were introduced, most customers still do not understand this concept and hence are unable to benefit from it.
What is portability?
Before health insurance portability was introduced, a customer was tied to the existing insurer and his plan despite being dissatisfied with its product or services.
Switching to another insurer, or to another plan with the same insurer, resulted in loss of no-claim benefits accumulated in the earlier years.
It also required the customer to serve all the waiting periods all over again.
Such hurdles made it extremely difficult for customers to move from one insurer to another.
By allowing health insurance portability, Irdai has empowered customers to shift to another health insurer freely, without any loss of benefits.
Should you port?
All health insurance policies are portable: You can port from one plan to another with the same insurer; and you can also port individual and floater health policies.
If you are planning to port your health insurance, list the causes first.
Weigh the merits and demerits of your current insurance plan on the basis of criteria like co-payment and deductible clauses, specific exclusions, room-rent capping, day-care coverage, network hospitals, etc.
It is possible that you discovered a few of these clauses after buying the policy.
If a significantly better plan is available from an insurer on all or most of the above-mentioned criteria, it may be worthwhile to port.
Following are some key points to consider at the time of porting:
1. Insurance company's underwriting guidelines
Every porting policy is treated as a fresh proposal by the new insurer.
The only difference is that on acceptance of the policy proposal, your past policy benefits will be ported fully and without any discontinuity.
However, an insurer is free to underwrite the proposal according to its own norms.
This means that you may be asked to give additional clarifications, undergo medical tests, or pay higher premium, depending on the risk assessed by the insurance company.
In the worst-case scenario, the new insurer may reject your proposal altogether.
In the interim while the new underwriting is being done, Irdai protects the consumer by mandating the following: 'The existing insurer shall not cancel the existing policy until such time a confirmed policy from the new insurer is received or there is a specific written request from the insured.'
You can extend the existing policy by a period of not less than a month by paying premium on pro-rata basis.
2. Age matters
While some private insurers allow individuals to port in up to any age, most public sector insurers do not admit fresh underwriting of individuals above 65 years.
Most insurers, however, allow lifetime renewability.
Also, because of aging, you may be required to undergo more number of medical tests before you are ported.
As a thumb rule, the earlier in life you decide to port, the greater are the chances of your proposal getting accepted.
3. Premium and bonuses
Unlike term insurance, where the premium is fixed for the entire life, health insurance premium keeps increasing with age even when you stay with the same insurance company.
When you port to a new insurer, however, your insurance premium is not just a factor of the age, but also of the underwriting outcome depending on your existing health condition, claim history, etc.
The bonus that insurers offer for every claim-free year (subject to stipulated ceiling) gets added to the sum assured and is carried forward.
4. Sum assured
Under the provisions of health insurance portability, your insurer has to insure you up to at least the sum assured of the previous policy.
Note that the premium for the bonus you have earned in your old policy is chargeable by the new insurance company.
For any incremental coverage, the waiting conditions of the new insurer will be applicable.
If you are planning to port from an individual policy to a family floater policy (to add members to your existing plan), opt for a higher sum assured.
As a thumb rule, you should increase the coverage by about 50 to 75 per cent for every new member you add to your policy.
Remember, the new insurer's waiting period and cooling off clauses will apply to the new member.
Although rare, there may be individuals planning to port from a family floater to an individual health policy.
While the proposer can opt for a lower sum assured also, one must read the porting guidelines carefully.
These differ from insurer to insurer in this scenario.
5. Medical history
The medical histories of the proposer and the covered individuals are major influencers in deciding the underwriting outcome of the new insurer.
A claim free, healthy past record is the surest criterion for ensuring smooth portability.
While it is not true that past claims will void your chances of portability or claim settlement (if already ported), it is likely to result in a higher premium through loading.
In such cases it may be better to stick for some time with the current provider to relatively clean up the slate (by having a no-claim period) before applying for portability.
It is possible that the new insurer could refuse your request to add a new member to the policy, if the person suffers from a chronic or pre-existing disease.
In that case, buy a separate plan for the member.
6. Don't slip up on technicalities
Be honest in declaring details.
The information provided on the portability form should also be free of errors (spellings, date of birth, etc.).
To port a policy, you should apply at least 45 days (but not more than 60 days) before the renewal date.
Some insurers may relax this timeline for proposals with young members having no medical history.
While it is the insurer's responsibility to ensure that the process of portability is completed in time, you are still required to ensure that the policy does not lapse at any given point.
Irdai has stipulated a 30-day grace period for this.
You can always escalate the matter to the regulator on their grievance portal, if the insurer fails to respond to you in a timely manner.
Mahavir Chopra is director, health, life and strategic initiatives, Coverfox.com