While buying health policies, customers should reveal any pre-existing diseases. This is the only way to ensure that the insurer does not reject claims.
Illustration: Uttam Ghosh/Rediff.com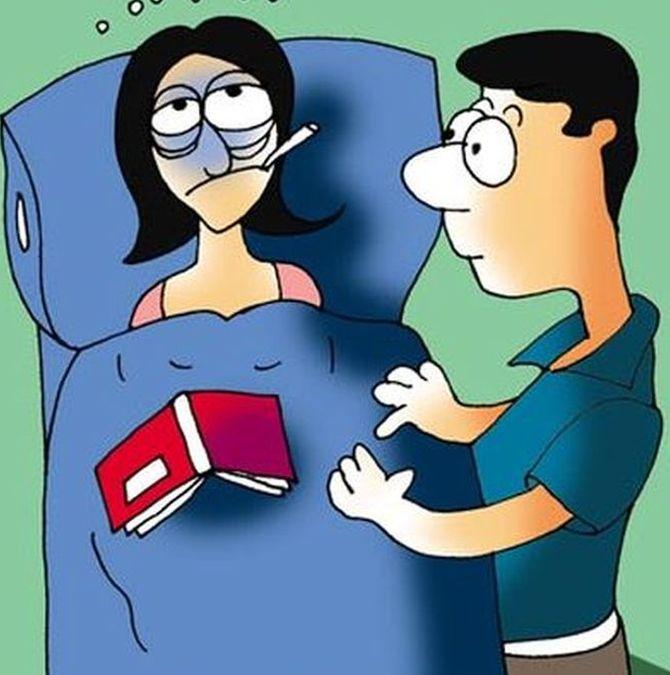 Addressing an insurance summit organised by the National Insurance Academy, the Insurance Regulatory and Development Authority of India (IRDAI) chairman Subhash Chandra Khuntia remarked that there is a lot of discontent among customers vis-à-vis health insurance products.
A recent paper brought out by the National Institute of Public Finance and Policy (NIPFP) titled 'Fair play in health insurance' has also dwelt at length on the problem of denial of claims to customers.
Premiums rising sharply with age: While medical insurance premiums do rise with age, customers aged 50 and above have, in recent years, experienced sharp hikes in premiums.
A person in the seventies could today be paying a premium of Rs 35,000-40,000 for a sum insured of Rs 200,000. Some insurers price their products in a way that their premiums are very high for those in the older age groups.
"One solution is to port to an insurer who is offering a lower premium in that age bracket.
"But porting can be complicated. If you have made a major claim in the past, or if your health is not good, you may find it difficult to port," says Kapil Mehta, co-founder and managing director, Secure Now Insurance Broker.
A reasonably affluent person may avoid buying a basic health insurance plan.
He could build a healthcare corpus and meet smaller claims out of it.
"A person can buy a top-up policy with the deductible set at Rs 200,000. He should pay any claim of up to this amount out of his corpus and use the top-up policy to avail of bigger claims.
"Premiums for top-up policies are very attractive, and one can save a lot of money with this approach," says Arvind Laddha, deputy chief executive officer, JLT Independent Insurance Brokers.
Condition not covered by policy: Denial of claim is a key reason for dissatisfaction among health insurance customers today.
One factor responsible for claim denial is what is referred to as "not covered by policy terms and conditions".
Many procedures, such as cosmetic surgery, are not covered by most health policies.
All medical insurance policies also have a list of standard exclusions.
Procedures like cataract, knee replacement and several others are not covered for the first few months after purchase. Insurers put in this this clause to avoid the issue of moral hazard - customers buying a policy after they have contracted a disease.
Those who are not aware of such clauses are likely to have their claims rejected.
Customers need to understand the crucial features of their policies.
Some policies, for instance, have caps on room rent. A person buying a Rs 10 lakh policy may imagine himself to be comprehensively covered.
But when he gets admitted to a hospital, he may find that his policy does not entitle him to a private air-conditioned room due to a cap.
Policies also have a co-payment clause, requiring the insured to bear a part of the cost.
This is especially true for senior citizens' policies.
A waiting period may have been inserted in the policy which the insured may not be aware of.
Those who buy a policy after 45 must undergo a health check-up.
This may indicate that the person is mildly hypertensive. The insurer may issue the policy, but with a waiting period.
If the insured has not checked the policy document after it was issued, he may not be aware of it.
Customers should look up at least the operative parts of the policy document, such as those related to room rental, co-payment, and exclusions.
These clauses are included in the first two-three pages.
Pre-existing conditions: Many claims get rejected because insurers suspect that the customer had the condition at the time of purchase but did not reveal it.
Waiting periods for pre-existing diseases range from two to four years.
"When buying a policy, opt for one with the minimum waiting period for pre-existing diseases," says Mehta.
Customers should reveal any pre-existing conditions they may have at the time of purchase.
"At the time of hospitalisation, people tend to give all information in a comprehensive manner to the doctor. If they have not disclosed something to the insurer, it gets revealed through the doctor's report," says Laddha.
Customers should buy health insurance while they are still healthy.
"The sooner you enter a health insurance policy, the better are your chances of clearing waiting periods before you need to make a claim," says Prasun Sikdar, managing director and CEO, Cigna TTK Health Insurance.
Buy one as soon as you enter the forties, if not earlier.
At the same time, you should be balanced in what you tell your doctor.
If there was a very mild symptom or a niggle you experienced five or ten years ago, and you mention it to the doctor, the latter could note it in his report.
There have been many cases of insurers denying a claim based on such notes.
Network hospitals: The report from NIPFP points out that confusion regarding network hospitals is also a cause for dissatisfaction among customers.
If a customer goes to a network hospital, he enjoys cashless settlement, while if he goes to a non-network hospital he is reimbursed after discharge.
This takes a lot of time. Rejection rates are also higher in this segment.
Check your insurer's website to ensure that the hospital you are being admitted to is part of your insurer's network as the list keeps changing.
Denial of cashless facility: Sometimes, insurers deny approval of cashless facility.
This usually happens when they suspect a pre-existing condition and want time to assess the case.
Most hospitalisations are planned, especially in the case of complicated procedures.
Customers should engage with their hospital and third-party administrator (TPA) well before the date of operation, so that they get approval for the cashless facility in advance.