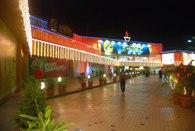 Inorbit, with two malls in Mumbai and its environs, now plans to spread its wings to other cities in the country by next year.
The destinations on its radar are Hyderabad, Pune and Bangalore. "We plan to open three malls in Hyderabad, Pune and Bangalore by 2010. We will open the Hyderabad mall, spread over 81-lakh square feet next month," Kishore Bhatija, director and CEO, Inorbit, told PTI.
The Pune mall is proposed to be opened by August 2010 and the one in Bangalore by December 2010, Bhatija said.
"We are doing good business in our two malls in Mumbai and expect the same business in other cities," he said, adding the retail market is gradually reviving and more people have started visiting the malls.
The company's two malls at Vashi and Malad, are both clocking good business, he said.